Published on Thursday, November 18, 2010 by BigIV
Marvel's creator owned imprint, Icon, has a preview of Cassanova #4 online.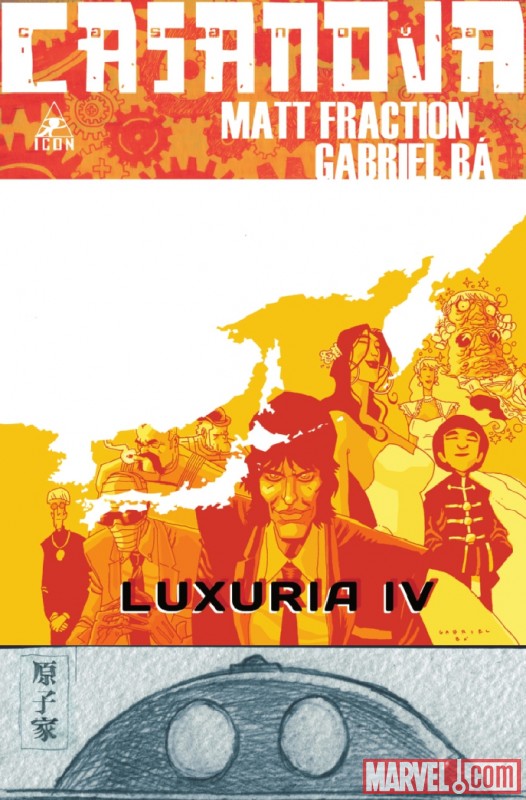 COVER BY: Gabriel Ba
WRITER: Matt Fraction
PENCILS: Gabriel Ba, Fabio Moon
COLORED BY: Pop Art Editoracao Empresarial LTDA
LETTERED BY: Dustin Harbin
THE STORY:
The psychedelically psychotic and psychotically psychedelic end of LUXURIA is here: since Casanova upgraded his consciousness he's a brave new man trapped in a brave new world. And now he's going to do something about it. What is the secret of the missile silos of Sakhalin? Who are the Three Brides of Kato Best and what are they doing in the head of that giant robot? Do you love comics as much as we do? Covenant with the elder gods sealed in blood by Fraction and Ba.
Matt Fraction is a fan turned industry writer. Starting off his career as a comic book shop employee, he went on to working on Thor, Invincible Iron Man and Uncanny X-Men.
Gabriel Ba and Fabio Moon have collaborated previously on the smash sensation Umbrella Academy and the lesser known Pix and Daytripper. Each of these have distinct visual and story telling styles. On Cassanova they are collaborating again on pencils.
Icon is an imprint of Marvel comics which puts out creator-owned projects including David Mack's Kabuki and Romita Jr & Millar's Kick Ass among others. Icon creators are responsible for self-promotion without the main PR arm of Marvel, so make sure you're telling your friends and family about any Icon titles that you have enjoyed. In fact, go to the Pryde forum.