Published on Thursday, November 18, 2010 by BigIV

The mini series about the death of Comic Book Guy comes to a close with this situation comedy.
The art is consistent. The humor is based in Lisa explaining the last four issues with copious rehash during the first half, and then the revived Comic Book Guy explaining the rest of the comic away.
The art is consistent in this final installment of the mini series that could have been tightened into four issues.
Discuss Comic Book Guy 5 (of 5) on the Pryde forum.
Writer Ian Boothby
Pencils John Delaney
Inks Dan Davis
Colors Nathan Hamill
Letters Karen bates
Editor Bill Morrison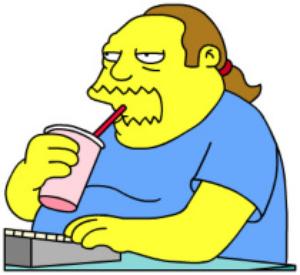 What would Comic Book Guy say?