Published on Monday, April 18, 2011 by BigIV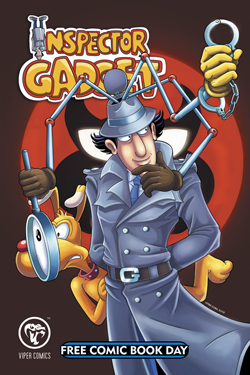 Dale Mettam was interviewed by Free Comic Book Day's Website about the upcoming Inspector Gadget and Johnny Test comic. The two cartoon characters are under the same cover and not interacting with each other as a cross over, but it is nice to see both back on the funny book pages.
Freecomicdayday.com: What's your favorite part about being able to work in comics?

Dale Mettam: Where's the downside? Seriously. I get to make up stories and get paid to do that. Better still, I get to do that with other people who do the same thing. Even better, I get to work with people who are often more creative than me and push me to do more and to do it better. It's fun. It's the kinda thing I used to do as a kid for my own entertainment and now it's a job.

Best job ever!

Was that too gushing? Sorry if it was. I just really love my job. Did that come through?

Freecomicdayday.com: Why do you think FCBD is so vital to the industry?

Dale Mettam: I think anything that brings some positive light to shine on comics. There is a lot of good stuff out there, and anything that pulls in new readers or readers that have drifted away—whatever—it brings people in and, while they might be there for the free stuff, they're exposed to the stuff we do all year long.
Check out the full interview on the FCBD website and then discuss on the Pryde Forum.