Published on Wednesday, May 11, 2011 by BigIV
Lucille is a sparse blank page with nearly free floating images capturing the free floating reality of being a struggling teenager. In a world of lush black and white worlds the metaphor of the blank page and lost youth at first is disorienting. The pages look more like a sketch pad than a graphic novel. However, the story starts to take shape in the simple line drawings. Emotion, story, action, and heart all come from the deceptively simple art work.
Stunning seems to be an odd word for the simple artwork. The story is captivating. Penned by French auteur Ludovic Debeurme, this rich story follows two teenagers journey through life. The metaphor of the journey crosses Europe to discover themselves. Thoroughly modern teenagers struggling with social pressures, old world parents, mysticism, displacement, alcoholism, and anorexia these two characters are strikingly specific yet work as emblems of a generation. Debeurme's English language debut has already won the Goscinny Prize and the Angoulême Essential Award.
One of my former occupations was working with high school students. Perhaps that is why I feel strongly that this graphic novel should be taught in schools. The story is simple yet complex and would provide room for brutally honest discussion. The masturbation, occult, and alcohol may keep this full nudity work out of most high school classrooms, but somewhere a class should be using this book. This is a book that captures the awkward transition from child to adult well without shying away from the traditional adult themes or pandering to a supposed lost innocence.
Check out the Top Shelf website for more information and a six page preview.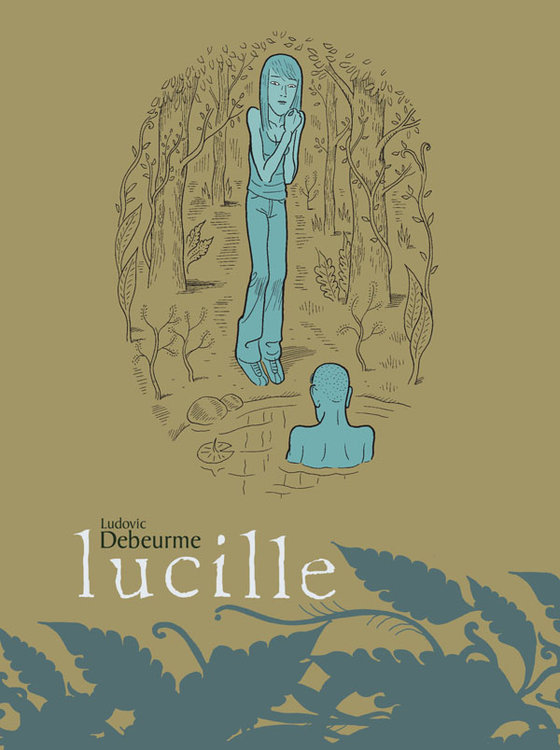 FORMAT: 6 5/8" x 8 7/8" B&W graphic novel
PAGE COUNT: 544 pages
AUDIENCE: Mature readers (18+)
PRICE: $29.95
PUBLISHER: Top Shelf Productions
RELEASE DATE: April 2011
pRaIsE
"Lucille impresses as much by the power of its drawing as by the subtlety of its dialogue and plotting… it alternates tender moments of joy with scenes that evoke tears… Tremendous." — Didier Pasamonik, ActuaBD
"The term "comics" seems too narrow a description for his books, which are more and more liberated from the formats, boxes, and the very vocabulary of the artform. In six years and five books, Ludovic Debeurme has imposed on the landscape of the 'new French comics' his demanding personality, his dreamlike and unsettling universe, his sharp line." — Gilles van Kote, Le Monde
"It's impossible to emerge unscathed reading Lucille, a stunning book by Ludovic Debeurme… at only 34, this Parisian touches the sublime with a work that's affecting at every moment." — Olivier Mimran, 20 Minutes
"It's been over a decade since the comic book was liberated to become the graphic novel, and Lucille is one of the most gorgeous examples… A simple and sensitive love story between two kids abandoned by life." — Eric Libiot, L'Express
ArTiSt bIoGrApHy
Ludovic Deburme is not a household name in American comic culture. A French graphic novelist and illustrator, born in 1971, he studied fine art at the Sorbonne, he was first published in the anthology Comix 2000, followed by the acclaimed graphic novels Céfalus (2002) and Mes ailes d'homme (2003), the autobiographical story collection Ludologie (2003), and youth-oriented illustrated editions of the classics Dr. Jekyll and Mr. Hyde (2001), The Chancellor (2004), and Gargantua (2004). His breakthrough came in 2006 with the release of Lucille, which won the René Goscinny Prize and was named one of the 5 "Essential" graphic novels of the Angoulême International Comics Festival. He followed that success with Le grand autre (2007), Le lac aux Vélies (2009), and Terra maxima (2010). The year 2011 sees his English-language debut with Lucille from Top Shelf, as well as the French release of Lucille's sequel, Renée. He continues to write, draw, and play guitar in Paris.