Published on Monday, May 23, 2011 by BigIV
Mego styled, cloth uniformed, action figures are returning. A new line of Captain Action toys kicks off with Marvel Comics characters. In October, 1960s era Spider-Man and Captain America accessory sets will pack a punch of nostalgia for many collectors.
The original '60s line sported both Marvel heroes, among other comic book and comic strip characters. Captain Action collectors should be excited about a return to the local toy store shelves.
Mavel's Comic Blog quotes Ed Catto of Captain Action:
"The Marvel Universe is really important to me, from my first Fantastic Four comics to my FOOM membership to the wonderful stuff being produced today," says Ed Catto of Captain Action Enterprises. "To me, Marvel can mean a classic, like an old AVENGERS issue with a [Jack] Kirby cover and Don Heck art, or something fresh and innovative, like [Brian] Bendis and [Stuart] Immonen on NEW AVENGERS. Both Captain Action and the Marvel Universe were born in that wonderful 60's era, but they've both grown so much and are perfect for today's fans, too."
Future costume sets will include classic versions of Thor, Iron Man, Red Skull, Loki, Doctor Doom, and Captain Action as well as Dr. Eville. One of the non-classic aspects of the relaunch is the "build a costume" concept. Each of the upcoming Marvel sets will include a uniform piece for Hawkeye!
"We wanted to give the fans something extra and we liked the idea of a chase character as an added bonus," explains Ahearn. "Hawkeye is a great character and we felt he would make a great-looking uniform set for collectors to display. And, being Avengers fans, we couldn't pass up the opportunity to use the catch-phrase 'Assemble an Avenger.'"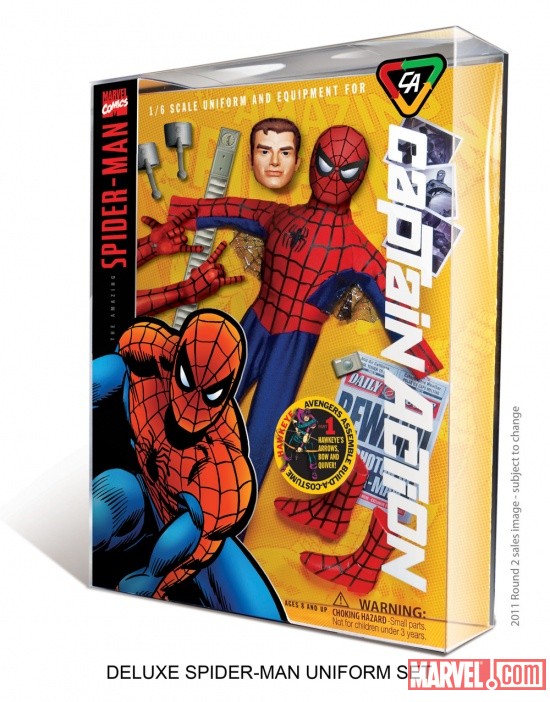 More information can be found on Captain Action's own website. Find out about the Moonstone comics 2008 relaunch on the Captain Action site. This is a good way to find out about the Captain when not disguised as Captain America, Spiderman, or other Marvel characters.