Published on Wednesday, November 2, 2011 by Zedric Dimalanta
I'm doing something different today as far as the format of my trade paperback reviews are concerned. Instead of doing a whole column on a single book, I'll be writing more concise "capsule reviews" of two collected titles. This week, it's Daniel Corey and Anthony Deicidue's Moriarty: The Dark Chamber from Image Comics and Warren Ellis and Garrie Gastonny's Supergod from Avatar Press.
Moriarty: The Dark Chamber
(Image Comics, 2011; 128 pages, collects Moriarty: The Dark Chamber #1–4 originally published in single magazine form)
Written by: Daniel Corey
Art by: Anthony Diecidue
Letters by: Dave Lanphear
Colours (issues 3 and 4) by: Perry Freeze
Cover Price: $14.99 (US)
Full Disclosure: This is a review of a press proof digital copy of the book provided by the publisher
From the Back Cover: It is the dawn of World War I, and Sherlock Holmes has been dead for 20 years. Holmes' enemy – Professor James Moriarty – is a lost man. MI5 blackmails Moriarty into finding Holmes' long-lost brother, Mycroft, but what at first appears to be a routine case leads to a web of intrigue that involves a psychic box and its creator, a woman from Moriarty's past, and a new villain that threatens to be greater than Moriarty ever was!
What Worked: Corey knows his Holmes and his World War I history and it shows in the attention to detail he applies to the story. Anthony Diecidue's figures can be a little stiff and his layouts rote, but his storytelling is solid and the panel-to-panel transitions are easy to follow.
What Didn't: "Show, don't tell" is one of the first rules taught to budding fiction writers. There are exceptions to the rule, of course, but its application is especially important in a hybrid medium like comics, where sequential art can be used as an additional expository and storytelling tool. There are entire pages in the book where written exposition threatens to overwhelm the reader, word balloons blanketing each panel with prosy "plot dump" dialogue that derail the story and make for fairly tedious reading. Corey seems to be going for a density in plot akin to that found in Alan Moore's The League of Extraordinary Gentleman, but his efforts largely result in an onerous and monotonous script and a MacGuffin-driven affair that is a slog to get through.
In Their Own Words:
"Tartarus promised us an allegiance with the Russians. The Treaty of 1892 would require the Russians to mobilize for war upon any action taken against the Triple Alliance, but he told us he had key government men in his pocket and that the Russians would come to our aid against France and the others."
The Verdict: Entertaining in spots, but the plot feels drawn out and the script could have really used some tightening up before publication. Corey's enthusiasm for the subject matter and the admirable scope and ambition of his project simply aren't enough to overcome the technical and stylistic issues that plague the writing. A pass except for the most ardent fans of Sherlock Holmes-themed appurtenances.
Supergod
(Avatar Press, 2010; 128 pages, collects Supergod #1–5 originally published in single magazine form)
Written by: Warren Ellis
Illustrated by: Garrie Gastonny
Inked by: Rhoald Marcellius
Coloured by: Digikore Studios
Covers by: Felipe Massafera
Cover Price: $17.99 (US)
From the Back Cover: Praying to be saved by a man who can fly will get you killed! From the mind of Warren Ellis, the creator of TRANSMETROPOLITAN and PLANETARY, comes the most horrifying superhero graphic novel you will ever read! What if the arms race of global superpowers did not yield nuclear stockpiles, but rather messianic beings capable of wondrous miracles and – when needed – the ability to unleash the wrath of gods? But the scientists, generals, and politicians built super-humans to save the planet, no one ever imagined how their heroes would do it – or even if they'd want to. Behold the apocalyptic tomorrow, when supermen kill us all and end the world just because we wanted to be rescued by human-shaped things from beyond Science itself!
What Worked: Besides fellow Brit Garth Ennis, there is probably no other comics writer who has derived as much commercial and critical success from the skewering of superhero comics tropes as Warren Ellis. Supergod finds Ellis in fine form, making veiled and not-so-veiled jabs at the conventions of the genre as well as creating vicious (but eminently laughable) caricatures of major religions and governments. I don't entirely agree with the underlying premises of the tale, but the book is just so entertaining (and balls-out ridiculous) that I find myself disinterested in pedantic quibbles. Garrie Gastonny's art will remind many readers of Ellis' pairing with Bryan Hitch during the early days of The Authority, and I'd love to see him get wider recognition for his talents.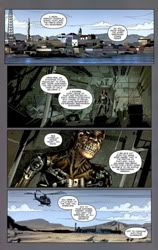 What Didn't: In many ways, there's probably not a lot here you haven't seen tackled before in some form or another, either in Ellis' previous work (particularly in "The Outer Dark" storyline from his run on The Authority) or from stuff like Alan Moore's Watchmen or Garth Ennis' The Boys. That being said, there's nothing inherently wrong with an author trying on themes and motifs he and his peers have already had a previous (and relatively recent) go at, but your mileage may vary.
In Their Own Words:
"… the LughNasa team's response to this creature in their midst was instant and profound. They began to worship, and pray, and masturbate with an entranced and furious intensity. One poor old man found new strength, such was his devotion, and tore his own todger off. Mushrooms began growing on it almost immediately."
The Verdict: A darkly hilarious indictment of superheroes, organized religion, and the international arms and technology race. Ellis goes over well-trod ground, but the results are nonetheless entertaining. Recommended.
Discuss this article in the Column Forum or e-mail

zuludelta

 (please put "Leaving Proof" in your e-mail's subject line)