Published on Monday, January 2, 2012 by BigIV
Building block fun meets board games for family game night! I picked up 2011's Lego Champion today. Lego Champion is five fun family games in one, or rather it is a game with up to five parts and multiple ways to play. The basic game is a run around the board with color coded pieces. Adding additional challenges, toppling tower, code breaker, and other mini games by color code makes the game a bit more complicated. It's fun. I recommend it.
One of the best parts of this game is that more game play options are just a little creativity away. Additional game rules can be found on-line to help add even more fun, but the rules encourage you to make up your own game play rules too. Yet again Lego endears creativity. I recommend it.


Unfortunately, I don't recommend it at its full MRSP price. $39.99 is too high. Toys R US has it cheaper, but not by much. Luckily, I found my set cheaper and would whole hardheartedly recommend this game at a cheaper price if you can find it.
This is a fun game.
One of the surprisingly fun additions to this game are the game pieces. While standard Lego Mini-Figures could be used, the single hole figures are static fun. Lego Champion comes with 8 game piece figures. Each has its own color and colorful personality. They look a little like Lego kids when placed beside of the traditional zany characters.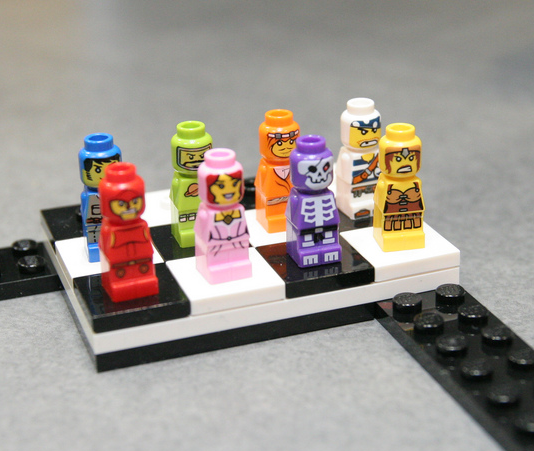 This is a part of the newer Lego Games line up which has other fun titles. Most of the rest seem to have cheaper prices for as much fun as Lego Champion. Lego Heroica looks like Dungeons and Dragons for younger people as a strategy game with a changeable maze path. I plan on adding that to my board game collection in the future. Lego Racing does not immediately catch my attention, but I can see why others might want it.
The other expensive Lego Board Game, Lego Creationary, seems like a lot of fun. Like Pictionary cards are drawn to inspire creation. I like that the cards are sold separate from the rest of the set.
I'm a tad jealous of this line. As a youngster I dreamed of putting together more complex games with my Lego pieces but never did. Young me would have dug these. As proof older me is still a fan. Adult me also understands why this line of games has won awards:
Family Game of the Year, Swedish Toy Association, Sweden, 2011
Major Fun Award, Independent, US, 2011
Parent's Choice Approved, Parent's Choice Award, US, 2011
This is a great way to inspire young people to play with non-electronic toys. These games help spur on imagination and block fun. This is a great way to play.