Published on Thursday, February 23, 2012 by Zedric Dimalanta
From the Back Cover: Set in feudal Japan, an era when lineage defined you, SAMURAI'S BLOOD involves three teenagers who must make their way through the world hiding their identities in order to find their destinies. As their village burns behind them, they are headed for a city they'd heard about only in stories.
The three young samurai must now struggle to stay alive and take vengeance on the evil usurper who has destroyed the rest of their clan and the only world they'd ever known. Will they rise on the tides of vengeance, or will they fall on the swords of fate?
————————————————-
Publisher, Creative Team, and Pricing Details:
Publisher: Image Comics
Year Published: 2012
Collects Samurai's Blood #1–6 first published in single magazine form
Script by: Owen Wiseman
Pencils by: Nam Kim
Inks by: Matthew Dalton
Colors by: Sakti Yuwono
Letters by: Josh Aitken
Covers by: Jo Chen
Created by: Michael Benaroya and Owen Wiseman
List Price: $14.99 (US)
Full Disclosure: The review copy was provided by the publisher
 ————————————————–
What I Liked: Wiseman offers up a straightforward and accessible coming-of-age adventure story that is clearly informed by the guiding principles of classic Edo Period martial texts such as the Hagakure and The Book of Five Rings. Think of it as Harry Potter-meets-47 Ronin.
Jo Chen's covers, which also serve as chapter breaks, are beautifully rendered.
 ————————————————–
What I Didn't Like: As uncontrived as Wiseman's story is, the dialogue and the overall pacing of the book can be leaden at times. The omniscient narrator employed throughout the story can be needlessly expository and the platitudinous passages that dot the book are maddeningly intrusive.
The interior art by penciller Nam Kim, while largely competent, is perhaps the book's weakest technical aspect. The prosaic stylization and visual storytelling remind me of generic early to mid-1990s comics art (think Roger Cruz back in his "swipe-tastic" days or middle-shelf Dreamwave Studios art) and has the all hallmarks of a method honed largely by copying finished comic book art, as opposed to say, a method and style tempered by a modicum of formal or informal studies in life drawing or sequential art theory.
Kim's pages are fraught with illustrative gimmicks such as overlapping panels and elements "stepping outside" of the panel. Used judiciously, these devices can serve to break up the monotony of the storytelling. Used excessively and without any clear storytelling or design purpose however, and they quickly lose their impact and are reduced to glaring distractions such as those seen below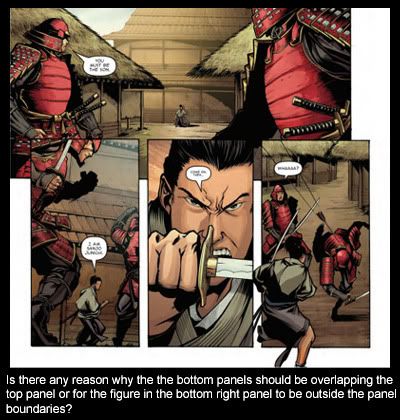 There are also occasional instances of Kim seemingly losing track of the left-right orientation of objects and body parts from panel-to-panel. Below are two sequences from the initial chapter of the book that illustrate these problems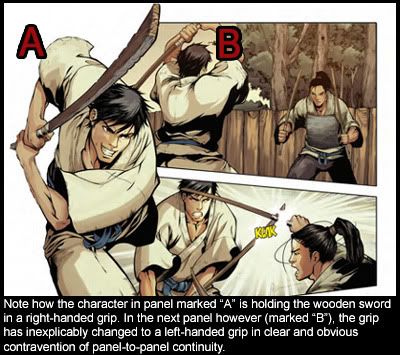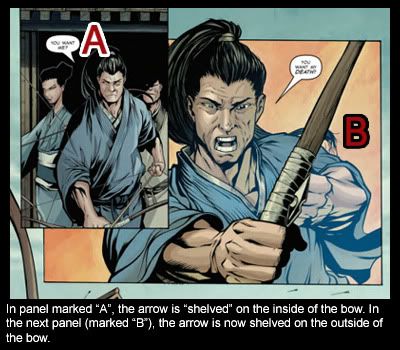 ————————————————–
The Verdict: Even at the very, very reasonable price of $14.99 (US), I suggest that readers pass on this book. It's not that it's egregiously bad, but the title has very little to recommend it in light of competing material. Readers looking for samurai-themed "period piece" comics fare would be better served seeking out Dark Horse Books' translated reprints of Lone Wolf & Cub and Blade of the Immortal or Viz Media's Rurouni Kenshin and Vagabond collections.
Discuss this article below or contact the author

via e-mail