Published on Friday, February 24, 2012 by Zedric Dimalanta
From the Back Cover
ONE OF LITERATURE'S GREATEST MONSTERS FACES HISTORY'S MOST NOTORIOUS KILLER!

Five years after MR. EDWARD HYDE's bloody reign of terror, the streets of LONDON run red once again when a series of prostitutes are MURDERED with surgical precision. Convinced that the killer is using the same serum that birthed Hyde, Inspector THOMAS ADYE of SCOTLAND YARD seeks assistance from its creator, the imprisoned DR. HENRY JEKYLL. But even as Jekyll convinces Adye that he can best aid in the hunt if freed from prison, evidence mounts that he is not completely cured of Hyde. With the TWO MONSTERS set to collide, can Adye—or his soul—survive intact?
Publisher, Creative Team, Format, and Pricing Details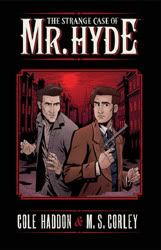 Publisher

: Dark Horse Books (a division of Dark Horse Comics)

Year Published

: 2012

Script by

: Cole Haddon

Art by

: M. S. Corley

Colors by

: Jim Campbell

Letters by

: Richard Starkings & Comicraft

Format:

96 page trade paperback (collects The Strange Case of Mr. Hyde #1–4, originally published by Dark Horse Comics in single magazine form)

List Price

: US $14.99 (review copy provided free of charge by the publisher)
What I Liked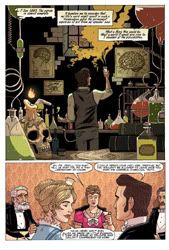 As you've probably surmised from the reproduced back cover copy above, Cole Haddon and M. S. Corley's The Strange Case of Mr. Hyde is styled as something of an unofficial sequel to Robert Louis Stevenson's Strange Case of Dr. Jekyll and Mr. Hyde. The story goes beyond being a simple continuation of the 1886 novella, however. Haddon ties the book into two notable Victorian era "scientific romance" works: Dr. Moreau (from H. G. Wells' The Island of Dr. Moreau) makes a small cameo in the first chapter, and protagonist Inspector Thomas Adye is obviously intended to be a younger version of Col. Adye from Wells' The Invisible Man (a pre-invisible Griffin also receives passing mention in the book).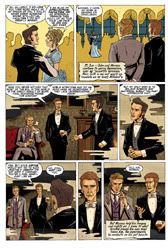 I suppose an argument can be made that Haddon's decision to set the story in and around Scotland Yard's investigation into the Whitechapel Murders is a lazy contrivance intended to gain the antagonist unearned credibility by conflating him with Jack the Ripper, but I found it to be a perfectly adequate plot device that imbues the goings-on with a palpable sense of urgency and a convincing quasi-historicity.
The "buddy-cop" dynamic between Inspector Adye and Jekyll gives Haddon an avenue to introduce some welcome levity in what is a grim state of affairs in the book. A memorably humourous exchange occurs in the book's first half, where a suspicious Adye is enlisting the deranged Jekyll's aid in his investigation
Inspector Adye

: I know how criminals think.

Dr. Jekyll

: Very well, hypothesize what I am thinking at this moment.

Inspector Adye

: You're about to offer further assistance in the Whitechapel Murders case… as long as I don't presently return you to Scotland Yard. Am I correct?

Dr. Jekyll

: No. I was thinking about breasts. Not large ones, mind you. Average breasts, but freckled. I have a thing for pale women, if you must know.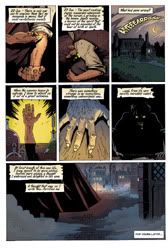 M. S. Corley is a new name in comics illustration to me but his work on this title has me putting him on my list of artists to watch. There's a strong ligne claire influence in the rendering style he employed on this book that I found eminently suited to the book's tone, setting, and subject matter. But what really stood out to me was the quality of his storytelling: the panel-to-panel action is easy to follow, in-panel blocking and character posing all make sense within the context of the scene, and he employs a relatively wide and distinct variety of figure silhouettes and faces in his illustrations of people (given this fact, the similarity in facial appearance and body morphology between Adye and Jekyll is obviously a deliberate design choice intended to highlight the classic theme of duality in man).
A lack of perceptible scene depth can occasionally be a problem in comics art that features comparatively unvarying ink line widths and an absence of screentones and hatchings, but that issue is effectively mitigated by the combination of Corley's varied use of viewing angles and colourist Jim Campbell's adroit control of contrast and gradients.
What I Didn't Like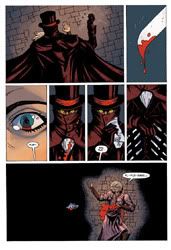 The dialogue occasionally features certain terms and odd turns of phrase that are discordant with the Victorian England setting. The usage of late 20th-century colloquialisms like "upgrade" (used as a synonym for "boost" or "improvement") and "beg the question" (used in place of "raise the question") are mildly distracting, although how jarring these occurrences are is obviously dependent on the individual reader. This is an observation that can probably be filed under the "picking nits" category except for the most prescriptive of grammarians.
The somewhat predictable "Scooby-Doo" resolution to the mystery of Jack the Ripper's identity is a tad unsatisfying, although personally, I don't think it detracts significantly from the narrative.
The Verdict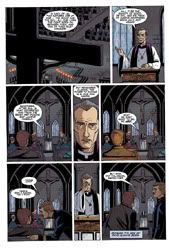 Any attempt at appropriating Victorian era scientific romance and early 20th-century pulp adventure characters for use in metatextual comics will almost inevitably be compared to Alan Moore's The League of Extraordinary Gentlemen. Yes, it is unfair to compare a relative comics neophyte's work to that of one of the medium's elder statesmen, but as I've mentioned time and again here in Leaving Proof, we don't read comics in a vacuum, and as much as we want to support the published endeavours of new comics writers and artists, that enthusiasm must be tempered by the reality that entertainment costs money, and it is only reasonable that the frugal reader-consumer sticks to known quantities. The Strange Case of Mr. Hyde is no League of Extraordinary Gentlemen, but I don't think Haddon set out to explicitly retrace Moore's efforts. The medium is big and diverse enough that two distinct interpretations of the setting and characters featured in Stevenson's 1886 work can exist side-by-side without directly impinging on each other's validity or originality.
The Strange Case of Mr. Hyde is a thoughtfully written, well-illustrated, thoroughly entertaining, and reasonably-priced book. Recommended.
Some miscellaneous notes
If you're a regular or returning reader of the column, you'll have noticed that there are some changes to the Leaving Proof and parent site layout. Our parent site has been re-branded from "Kitty's Pryde" to "The Comixverse". Update your bookmarks accordingly (the new parent site URL is

http://thegeeksverse.com/

).
With all these updates and upgrades, it's certainly possible that some of the older Leaving Proof columns have been borked format-wise. I'll try to fix any and all of those problematic articles in the coming days and weeks, but if you see any egregiously busted pages, feel free to contact me via the e-mail link or comments section below or in the

Geeksverse forums

.
Discuss this article below or contact the author

via e-mail