Published on Monday, February 27, 2012 by Zedric Dimalanta
Women's fashion is a subtle form of bondage. It's men's way of binding them. We put them in these tight, high-heeled shoes, we make them wear these tight clothes and we say they look sexy. But they're actually tied up. (David Duchovny)
When I received the advance (digital) copy of Dark Horse Books' deluxe hardcover of Empowered for review a couple of weeks ago, I thought I'd simply do up a fairly standard review column: list the things I liked about it, list the things I didn't like about it, and then tell people whether or not I think it's worth the list price. But as I was making my way through the volume, I found myself thinking less about the book's particulars and more about the issues Adam Warren's work addresses. So in lieu of the itemized review column format that I've been using for these past few months, I'm going for a more conversational essay-ish piece.
According to Warren, the idea for Empowered was spurred by an unnamed fan who commissioned the artist to sketch women in fantasy bondage scenarios. At some point, Warren started writing short, humourous stories behind the illustrations and eventually got the idea to flesh out the character of the subject of the sketches and craft a world for those stories. One thing led to another, and before long, Dark Horse picked up the publishing rights to the Empowered comic strips that he was sending out as .jpegs to people on his mailing list.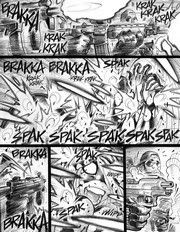 The eponymous Empowered derives her various superpowers from a skin-tight "hypermembrane" suit of unknown origin. The suit tears easily, although it can regenerate over time. Despite the considerable abilities at her disposal (which include superhuman strength and the ability to reach orgasm with a minimum of stimulation), the buxom "Emp" frequently finds herself tied up by supervillains, often in varying degrees of undress (her superpowers diminish as her suit covers less and less of her body).
A lot of the humour in Empowered is based on calling attention to the female bondage motif that appears in many superheroine portrayals. Anybody familiar with the history of superhero comics is likely to be aware of Wonder Woman-creator William Moulton Marston's preoccupation with eroticized bondage, how it patently manifested itself in his comics work, and how related themes continue to be prevalent in modern superhero comics.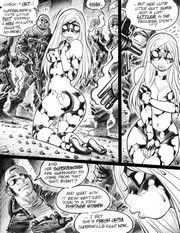 Warren isn't the first comics creator to ridicule the less-than-equitable portrayal of women in superhero comics via the use of satire, of course. Surely, a good number of artists who laboured on Wonder Woman, Phantom Lady, and other superhero titles that occasionally featured scantily-clad superheroines in all manner of bondage situations were working with a cheeky self-awareness. And writers like Alan Moore, Garth Ennis, and Warren Ellis have all taken turns poking fun at the stunted and regressive sexual politics of the superhero comics genre. But does self-awareness exempt comic book creatives like Warren from the criticisms that are commonly lobbed at portrayals of females in superhero comics? That is, is the hypersexualized depiction of the protagonist in Empowered any less of an appeal to the reader's prurient interests just because it is treated in a parodic fashion?
I honestly don't know.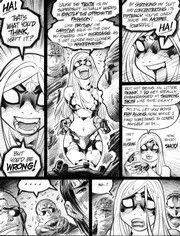 There were certain instances when I was reading Empowered that I felt like cringing. I appreciate how difficult it is to write something genuinely funny—"dying is easy, comedy is hard," as the old saying goes—and some of my occasional uneasiness can easily be chalked up to certain jokes just not working for me (the casual cunnilingus references struck me as being particularly ham-fisted and repetitive). Not that comic book nudity and bondage does anything in particular for me or anything, but I wonder if some of my mild discomfiture might also be a reaction motivated by Poe's Law: Warren's drawings of a helpless Empowered in chains with only strategically-placed bits of her costume covering her nipples and vulva may be ironic, but the erections the drawings inspire among some readers are most assuredly anything but.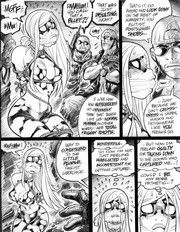 So, what do I make of Empowered?
As an attempt to diversify the on-going comics discourse with regards to superheroine portrayals, it succeeds, as it should make even the most jaded superhero comics readers take pause and think about the absurd level of female hypersexualization and subjugation imagery in their favourite comics. And all talk of female representation issues aside, Empowered is very well-illustrated by a master visual storyteller and when the jokes work (and they do more often than they don't), the results can be quite hilarious. Still, a repackaged collection of this size (the book collects the first three Empowered trade paperback volumes) is likely to be of interest only to those readers who are either already fans of Warren and Empowered or those who have already committed to jumping into the series with both feet on the strength of Warren's non-Empowered work. Curious readers who have some reservations about spending so much at once on the title might be better served initially sampling the more economically-priced individual trade paperbacks.
The "Empowered" Deluxe Edition Hardcover goes on sale on 29 February 2012
Discuss this article below or contact the author

via e-mail