Published on Tuesday, February 28, 2012 by Zedric Dimalanta
The masterpiece by Belgian comics creator Hermann is available in English for the first time! A misanthropic European expatriate, Dario Ferrer, acts as guardian of a Tanzanian wildlife preserve. Accompanied by Charlotte, a naive European journalist, Ferrer discovers a village under fire from mysterious agents of the foreign-backed government. Ferrer and Charlotte must fight not only to protect the preserve, but to expose government corruption—and survive to see another day.
Publisher, Creative Team, Format, and Pricing Details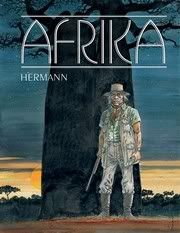 Publisher

: Dark Horse Books (a division of Dark Horse Comics)

Year Published

: 2012

Story and Art by

: Hermann (Hermann Huppen)

Format:

64 page hardcover (reprints Afrika, originally published in French and Dutch by Le Lombard)

List Price

: US $15.99 (digital review copy provided free of charge by the publisher)
What I Liked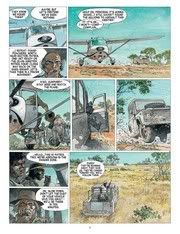 Readers wary of reading bandes dessinées (BD) because of past experiences with overpriced translations of limp softcore erotica or pseudo-philosophical science-fantasy need not worry. Hermann's Afrika is a gritty, no-nonsense tale firmly rooted in the here-and-now that leaves the navel-gazing for the reader to do on his own time.
All that said, I suspect the real reason North American readers will pick this up is for the art: Hermann's watercolor-over-inks comics art is some of the best on either side of the Atlantic and he doesn't disappoint with this one-shot. It's not his best work (an honour I think most people familiar with his output would say is reserved for the superlative Sarajevo Tango or The Towers of Bois-Maury), but it's a solid B+ outing from a modern master.
What I Didn't Like
Nothing really stood out to me as a particularly negative feature. Certainly, the story is fairly routine violence and conflict-driven material and it's apparent that Hermann's portrayal of protagonist Dario Ferrer suffers from a variation of what the American author Paul Theroux called the "Tarzan complex" (in his influential 1967 essay Tarzan is an Expatriate, Theroux wrote that "[t]he expatriate has [passive authority over Africans] with a distinct conviction that no one will bother him; he will be helped by the Africans and overrated by his friends who stayed in England or the United States. He is Tarzan, the King of the Jungle."). This is counterbalanced to a degree by the portrayal of the primary antagonists (also foreigners—European and Chinese), though. Not that Hermann should be playing a zero-sum game of racial politics at the cost of story logic, mind you, but at least he avoids the trap of excessively aggrandizing the benevolent European expatriate.
As I'd mentioned in the prior section, the art isn't quite up to the level of his top-shelf material, but I imagine part of that is due to the choice of setting. The African savannah's earth tones and muted greens dominate the pages and there's little opportunity for Hermann to introduce the more dynamic colour combinations and contrasts he is known for.
The Verdict
For such a highly-regarded BD artist, it's somewhat surprising that there aren't more readily available English translations of Hermann's work (most of those in print are published by Bosnia-based Strip Art Features). Afrika isn't an ideal introduction to Hermann's work by virtue of both the book's subject matter and the overall quality of the work, but readers who want to add to their collection of English-language Hermann graphic novels and comics would be doing themselves a disservice passing up on this hardcover volume.
The "Afrika" hardcover goes on sale on 14 March 2012
Discuss this article below or contact the author

via e-mail