Published on Saturday, March 3, 2012 by Zedric Dimalanta
From the book's press release
Dashiell Brody is a teenaged girl who has grown up loving America's national pastime, baseball. Dashiell has recently moved with her mother and sister to a new town, and that means a new school and new opportunities. Rather than get stuck playing on the girl's softball team, Dashiell wants to play for the school's championship baseball team—only the boys aren't quite ready for this speedy shortstop. When Dashiell tries out for the main team, there is resistance, but she sticks to her guns and earns a chance to prove herself on the field.
Publisher, Creative Team, Format, and Pricing Details
Publisher

: Oni Press

Year Published

: 2012

Written by

: Nunzio Defilippis & Christina Weir

Art by:

Jackie Lewis

Format:

144 page B&W hardcover

List Price

: US $19.99 (digital review copy provided free of charge by the publisher)
What I Liked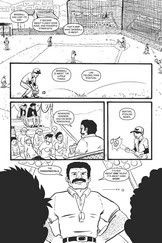 I'm a sucker for a good sports underdog story. Whether it's a fictional sports narrative like Rocky or a real-life zero-to-hero tale like the recent rise of Jeremy Lin from undrafted D-League curiosity to starting point guard on the New York Knicks, there's just something genuinely inspiring about seeing someone go against all odds and prove naysayers wrong in pursuit of sports excellence.
Make no mistake, Play Ball is about more than just one girl's improbable attempt at breaking the gender barrier in high school baseball. It's also about the importance of friends and family, seeking validation from the right sources, the value of teamwork, growing up and fitting in, and wouldn't you know it, the husband-and-wife writing duo of Nunzio Defilippis and Christina Weir even managed to throw in a little romantic subplot just to make things more interesting.
One of my favourite aspects of the book are the sympathetic and three-dimensional characters. Protagonist Dashiell is cheerful, spirited, and intelligent, but that doesn't mean she's flawless: she has emotional blind spots when it comes to her father and she can be terribly mean to her mother and older sister on occasion. There are no real "bad guys" in this book, just people who cling to bad ideas. That being said, there's real emotional weight behind the story's central conflict. I found myself absolutely riveted by the events occurring in and around Dashiell's campaign to join the boys' baseball team.
Defilippis and Weir avoid succumbing to the use of the most predictable sports fiction clichés and the dialogue is thankfully free from cloying and overly-clever quasi-teenspeak. There's a clear and unambiguous message driving the narrative, but the writers don't belabour their point, ensuring that the proceedings are entertaining first and foremost.
Artist Jackie Lewis' storytelling is clear and her pages are largely free of unnecessary gimmicks (save for a few instances of needless panel overlapping disrupting the panel-to-panel transition). Characters' facial expressions and gestures are at once varied and easy to interpret, which are particularly important qualities in a comic book that features a good number of "talking head" sequences.
What I Didn't Like
If I had to pick nits, I'd probably say I wish the book came in colour instead of black-and-white. It's a very minor complaint in the face of everything the book does right, though.
The Verdict
A buoyant and genuinely affecting all-ages read that offers stirring drama on and off the diamond while avoiding most sports fiction and coming-of-age story clichés. Play Ball is my early favourite for best graphic novel or one-shot of 2012. Very highly recommended.
The "Play Ball" hardcover goes on sale on 25 April 2012
Discuss this article below or contact the author

via e-mail