Published on Tuesday, March 13, 2012 by Zedric Dimalanta
From the back cover
In September 2011, artist and firebrand Molly Crabapple locked herself in a hotel room, covered the walls with paper, and filled 270 feet with art. Here are the photos.
Publisher, Creative Team, Format, and Pricing Details
Publisher

: IDW Publishing

Year Published

: 2012

Art and Text by

: Molly Crabapple

Photography by:

Steve Prue

Back and Front Cover Photography by:

Clayton Cubitt

Additional Photography by:

Kate Black, Yumna, and Andras Frenyo

Format:

48 page full-colour paperback

List Price

: US $9.99 (digital review copy provided free of charge by the publisher)
What I Liked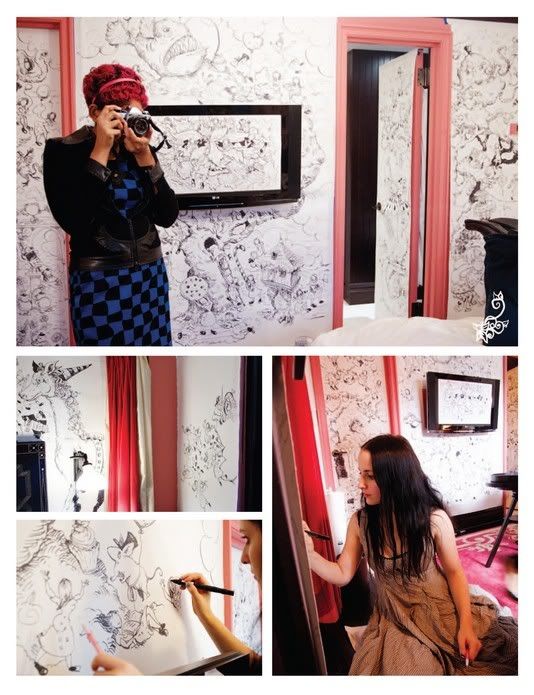 Illustrator and model Molly Crabapple's work has been characterized as "whimsical" with self-described "auto-didactical beginnings in a Parisian bookstore". That's the kind of vaguely effusive copy and unintentionally hilarious pretension that has me wary regarding the actual technical merits of a work. My caution regarding this aspect of the book turned out to be wholly unnecessary, though. Crabapple is a talented visual artist, whose humourous and mischievous creations in the Week in Hell project call to mind both Mad magazine's Al Jaffee and the detailed cartoons from the Victorian-era incarnation of Punch magazine.
The photographs of Crabapple's illustrations by Steve Prue are very well done, especially when considering the complications offered by photographing black ink drawings on white paper in a relatively uncontrolled, non-studio environment. A panoramic 360° shot of the hotel room's illustration-covered walls is especially impressive.
What I Didn't Like
I appreciate the playfulness of a Week in Hell but I think that in this case, perhaps the conceit behind the work and the act of its creation were more successful than the resulting documentation of it. That is, beyond serving in its functional role as a photographic chronicle of a hybrid visual/performance art experiment, I'm not at all sure if the book justifies its existence: it is less an art book than it is a coffee table book, providing only a cursory examination of the artist and her work. Granted, apart from captioned photographs, whether there is much more material—material that needs no radical re-contextualization to add depth—to be mined from the Week in Hell project is somewhat open to debate.
The Verdict
In a sense, a publication like this is, for lack of a better term, "review-proof": Fans of Molly Crabapple and her craft will no doubt find something that appeals to them in Art of Molly Crabapple Vol. 1: Week in Hell while readers who up to this point have found little in her extant work to engage them likely won't change their opinions with this book.
"Art of Molly Crabapple Vol. 1: Week in Hell" goes on sale on 14 March 2012
Discuss this article below or contact the author

via e-mail