Published on Friday, March 16, 2012 by Zedric Dimalanta
AT LAST!

The long-awaited collection of the complete KING CITY series is here, full of full on comic book games, puzzles and wordplay!

Joe is a catmaster, trained to use his cat as any tool or weapon. His best friend Pete falls in love with an alien he's forced to sell into green slavery, while his ex Anna watches her Xombie War veteran boyfriend turn into the drug he's addicted to. King City, an underbelly of a town run by spy gangs and dark, dark magic with mystery down every alleyway.
Publisher, Creative Team, Format, and Pricing Details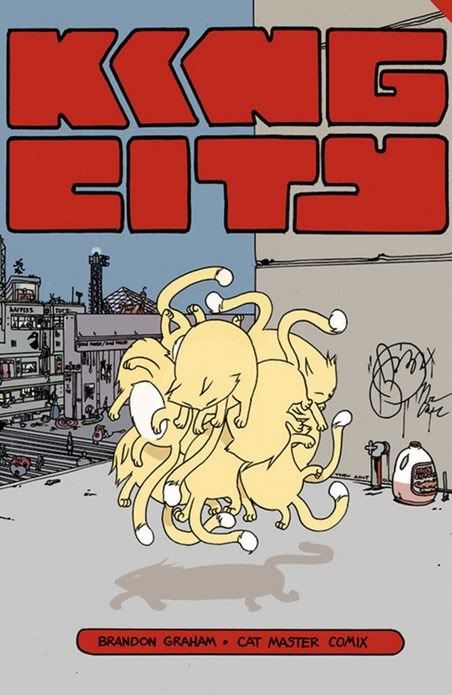 Publisher

: Image Comics

Year Published

: 2012

Story and Art by

: Brandon Graham

Additional Material by:

Thomas Herpich, Marian Churchland, James Stokoe, and Ludroe

Format:

424 page B&W trade paperback (collects King City #1–6 originally published in single magazine form by TOKYOPOP, eventually reissued by Image Comics; and King City #7–12 originally published in single magazine form by Image Comics)

List Price

: US $19.99 (digital review copy provided free of charge by the publisher)
What I Liked
In a Permanent Damage column written in 2009, long-time comics writer Steven Grant wrote at length about what he called the "mad ideas" school of comics writing. It's an interesting piece that I recommend anyone with an interest in the craft and history of comics peruse. According to Grant, one of the fundamental features of the modern mad ideas comic, as typified by Howard Chaykin's 1980s series American Flagg!, is "a whole environment in which all manner of bizarre things were commonplace to its characters, rarely explicated and barely commented on."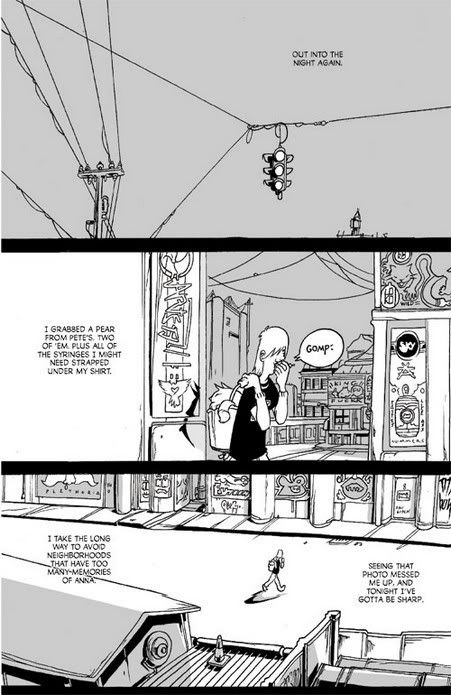 Brandon Graham's King City certainly falls into the mad ideas category by virtue of that feature. In the eponymous municipality, ninjas and avian-themed gangsters engage in turf wars, a Soviet sasquatch runs a hotel, returned veterans of the Korean Xombie War struggle with a literally crippling addiction to drugs made from their own diseased appendages, abducted extraterrestrials are forced into prostitution by cyborg pimps, shoe-dispensing vending machines can be found on every street corner, and "Catmasters"—highly-trained mercenaries and vigilantes armed with weaponized hyper-intelligent cats—patrol the streets. Further reinforcing the sense of the bizarre is Graham's use of neologisms, portmanteaus, paronomasia, and other wordplay techniques associated with the literary nonsense genre. A traditional plot logic and linear narrative structure grounds the book's surreal and dreamlike setting however, keeping things from descending into pure absurdist fiction and making it accessible despite its decidedly offbeat sensibilities: Graham's King City has more in common with Matt Fraction's Casanova or Jim Mahfood's Grrl Scouts than it does with Bill Griffith's Zippy the Pinhead or the work of cartoonist Glen Baxter.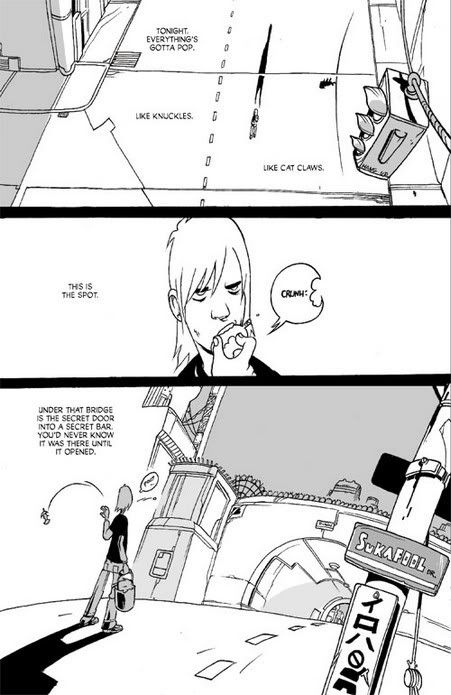 Despite the out-and-out weird situations they find themselves in, the book's cast of protagonists exudes a surprising amount of pathos. The emotions that wrack Joe the catmaster and his best friend Pete in their various struggles feel genuine, even as Graham plays up the outlandishness of the context they are embedded in.
Graham's art and storytelling are solid. The graffiti/urban aesthetic-inspired stylization—reminiscent of the work of Gabriel Bá and the aforementioned Mahfood, although slightly less inclined to detail and stiffer when it comes to the human figure—may not be to everyone's preference, but he has an acutely honed ability for clearly conveying action, gesture, and emotion and his in-panel "camera" work is quite dynamic.
The panel backgrounds are packed with activity and information, giving the impression that King City truly is alive and continues to exist and function as a separate entity even without the protagonists. Even the props are full of details: a book that briefly appears in two panels midway through the volume is imprinted with the Pharaoh's sigil from the cover of Hergé's Les Cigares du Pharaon. King City is absolutely dense with information.
The book also includes a crossword puzzle, a board game (with cut-out player tokens), a full-colour mini-poster, and bonus stories written and drawn by Graham's associates, adding a lot of value to the already hefty package.
What I Didn't Like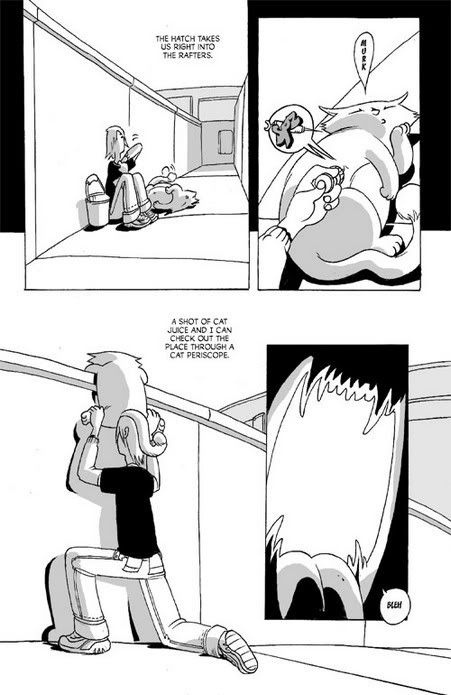 A running gimmick in the book's lettering is the frequent omission of double-letter combinations. The words "all" and "deep" for example, are rendered in the lettering as "a__ " and "d__p", respectively, and a reader will have to take into account context to decipher the missing letters. It's an interesting experiment in active reading that can serve as an occasionally jarring psycholinguistic mirror—I surprised myself at how I initially read "sme__ of cu__y", no I did not read it as "smell of curry" at first, think dirtier—but the device quickly devolves into an annoyance after the first dozen pages.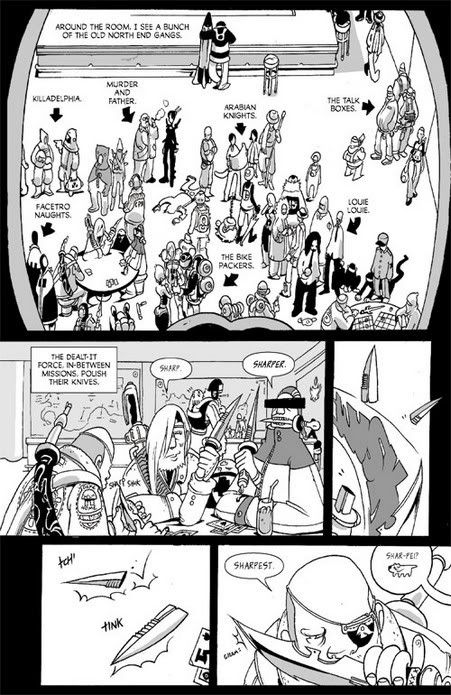 The depiction of major supporting character and quasi-love interest Anna, while definitely adorable, veers dangerously close to Manic Pixie Dream Girl territory, although I suppose whether or not this is a negative against the writing is really up to the individual preferences of the reader.
Graham's penchant for Mitch Hedberg-style punning and non sequiturs might irk readers of a certain persuasion, but as I'd mentioned in my recent review of The Compleat Terminal City (where writer Dean Motter employed similar contrivances to heighten comic effect), I personally appreciate them when used well.
The Verdict
An excellent collection that offers great value for money. Entertaining stuff from a genuine comics talent, King City finds Brandon Graham in fine form and fans of the comics medium should pick this volume up if they can. Highly recommended.
The "King City" trade paperback is on sale now
Discuss this article below or contact the author

via e-mail