Published on Saturday, March 17, 2012 by Zedric Dimalanta
In the tradition of David Lynch and Stephen King comes the story of a young woman dealing with the insanity of the world around her. Meet Ginger, a twenty-something office girl that lives her life one boring day at a time until on her wedding night, her new husband tries to kill her…and it goes horribly wrong. This special hardcover graphic novel is a story of revenge, lust, violence and insanity brought to you by JIMMY PALMIOTTI (Jonah Hex, Painkiller Jane) and featuring the art of ARTIZ EIGUREN, as well as a cover by award winning illustrator SAS CHRISTIAN, and also featuring pin-ups by AMANDA CONNER and more!
Publisher, Creative Team, Format, and Pricing Details
Publisher

: Image Comics

Year Published

: 2012

Written and Created by

: Jimmy Palmiotti

Art by:

Artiz Eiguren

Cover by:

Sas Christian

Book Design by:

Bill Tortolini

Pin-up Art by:

Jimmy Palmiotti, Amanda Conner, Paul Mounts, John Cebollero, Carolyn Belefski, and Dez Taylor

Format:

64 page full-colour hardcover

List Price

: US $12.99 (digital review copy provided free of charge by the publisher)
What I Liked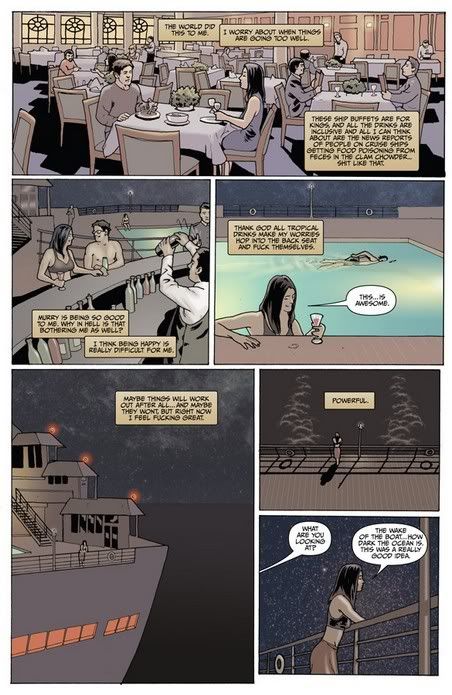 In the book's afterword, author Jimmy Palmiotti describes Queen Crab as "a bit of a departure" for him.
He wasn't kidding.
It's always invigorating for me as a long-time comics reader to see veteran superhero/action-adventure comics creators stretch their creative boundaries, almost regardless of the quality of the final, published result. Queen Crab sees Palmiotti trying his hand at a contemporary comics work of existential horror, and for the most part, I think he succeeds in doing what he sets out to do.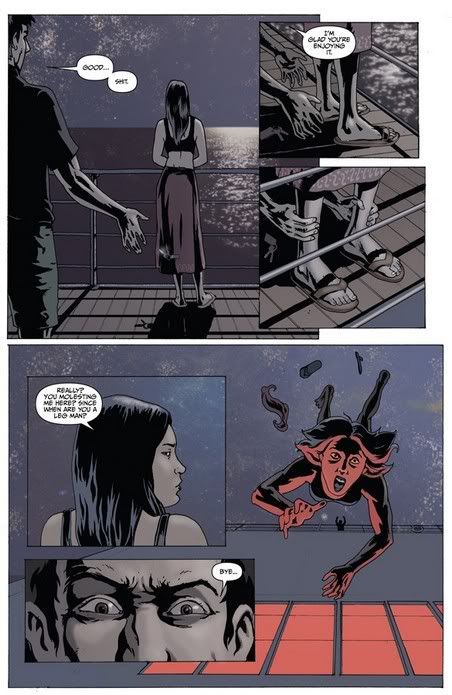 The first three-quarters of Queen Crab is virtually a modern re-telling of Franz Kafka's The Metamorphosis, with protagonist Ginger and her aimless office worker life—punctuated by shallow relationships and occasionally abusive sexual dalliances—serving as the updated 21st century analogue to The Metamorphosis' Gregor Samsa and his dreary existence as a traveling salesman. And just like Samsa, Ginger's transformation into an arthropod grotesque serves to symbolize the character's journey towards the realization of the ultimate meaninglessness of life and the insignificance of the individual in the face of an indifferent universe.
Palmiotti strays from the traditionally pessimistic existentialist paradigm in the book's epilogue however, subverting genre tropes and expectations by offering up a relatively upbeat and open-ended resolution to Ginger's tale that genuinely caught me by surprise. Some readers may interpret the ending as a compromise that undermines the book's absurdist theme, but I choose to view it as an earnest attempt to put a unique and personal spin on the existentialist worldview.
What I Didn't Like
It's hard to find fault in a technically well-executed labour of love such as Queen Crab without actually questioning the validity of the creative vision and drive behind it. As I'd mentioned in the preceding section, I think Palmiotti succeeded in doing what he set out to do. But whether "what he set out to do" is something that will readily find an audience is open to question.
The Verdict
The publication of Queen Crab was entirely "crowd funded" by a Kickstarter campaign and it's fairly easy to see why. The book's existentialist horror and absurdist conceit strikes me as the kind of thing that would scare off most publishers and hold relatively niche appeal even (or especially) among fans of "traditional" EC-style or contemporary horror comics. Readers looking for something decidedly different and sincerely personal in their horror comics should give this book a shot, though.
The "Queen Crab" hardcover is on sale now
Discuss this article below or contact the author

via e-mail