Published on Wednesday, March 21, 2012 by Zedric Dimalanta
From the back cover
Alec King is a small time thief & con man who has always run away from responsibility. When he and his partner get in over their heads after being blackmailed into becoming hitmen and his partner is killed in the process, Alec tries to escape one last time. Alec attempts to take his own life, only to discover he cannot die. What would you do if you had nowhere left to run?

Written by newcomer John Mahoney and Filip Sablik (The Darkness II: Confession, Pilot Season: Misdirection) with art by Thomas Nachlik (Batman: 80-Page Giant), Last Mortal takes conventions of crime fiction and turns them on their head with a supernatural twist. Collecting the hard-hitting noir tale of revenge from Minotaur Press, this edition not only offers the complete series, but a wealth of behind-the-scenes bonus material including a complete cover gallery, character designs, and a look at the 15-year development of the Last Mortal.
Publisher, Creative Team, Format, and Pricing Details
Publisher

: Image Comics/Minotaur Press (a division of Top Cow Productions)

Year Published

: 2012

Written by

: John Mahoney and Filip Sablik

Art by:

Thomas Nachlik

Lettering by:

Troy Peteri

Format:

160 page B&W hardcover (collects Last Mortal #1–4, originally published in single magazine form)

List Price

: US $19.99 (digital review copy provided free of charge by the publisher)
What I Liked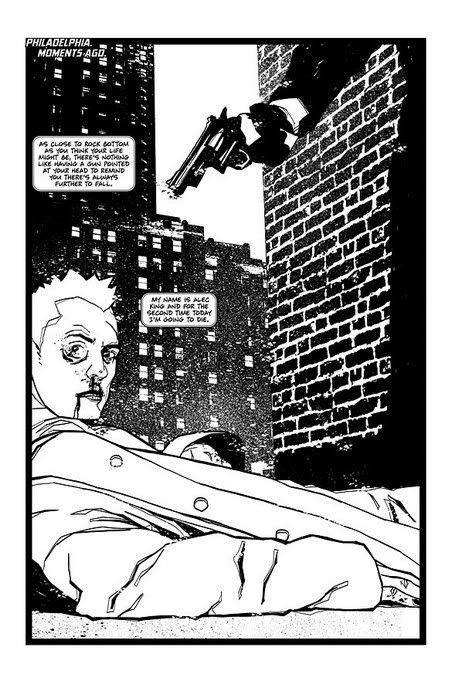 Last Mortal's high concept of an immortal petty criminal caught in an assassination plot is conveyed in fairly straightforward fashion, always a good thing when a story already straddles two distinct genres. The writing duo of John Mahoney and Filip Sablik wisely opens each chapter in medias res, which provides the dramatic tension that would have otherwise been lost by virtue of the premise: given that protagonist Alec King can't die, certain narrative contrivances are necessary to endow the story with an amount of suspense befitting a hybrid supernatural-noir tale.
Thomas Nachlik's panel-to-panel storytelling is easy to follow and unhindered by useless gimmicks. His combination of naturalistic rendering and a stark black and white aesthetic devoid of gradients and screentones is impressive, although the unvarying ink line width he employs occasionally makes scenes with detailed backgrounds look cluttered.
The back cover copy is accurate when it mentions the book's "wealth of behind-the-scenes bonus material". Besides the expected cover and concept art gallery, there are over 40 pages of story pitches, sample scripts, and page breakdowns detailing the book's 15-year long, off-and-on development process that started in Mahoney and Sablik's middle school days working on what they then called Forever Man. This material provides rare insight into the comics creation process and can potentially serve as an invaluable resource for the aspiring comics writer or artist.
What I Didn't Like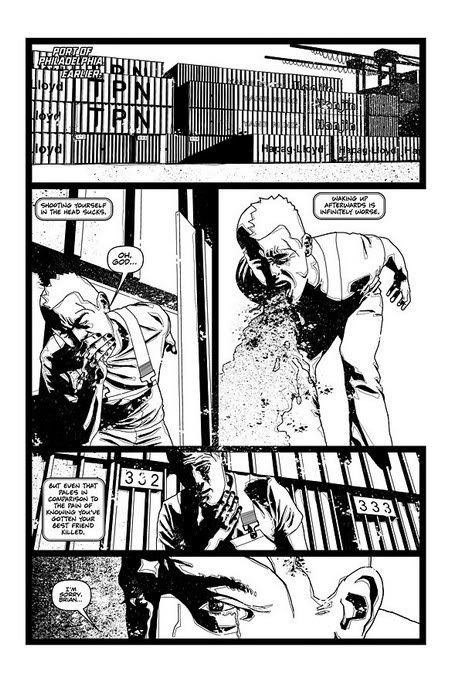 Perhaps my biggest misgiving about the book is that I just couldn't find myself rooting for the protagonist. Granted, noir and noir-inspired stories are supposed to feature flawed heroes, but Last Mortal's Alec King isn't just flawed, he's a gutless wonder with little, if any, redeeming qualities. His quest to avenge the death of his partner-in-crime makes little sense when we're given no reason to think that his associate is worth the trouble of avenging, all the expository flashbacks seem to paint him as a manipulative scumbag who never cared for Alec. Everybody loves to root for the underdog, but nobody likes to root for a terminal loser and a fool, and the story is missing a cogent redemptive arc for its lead. Not helping matters is the book's ultimate villain: a cackling, one-dimensional, and  overly simplistic caricature in the Snidely Whiplash vein who is more MacGuffin than character.
The Verdict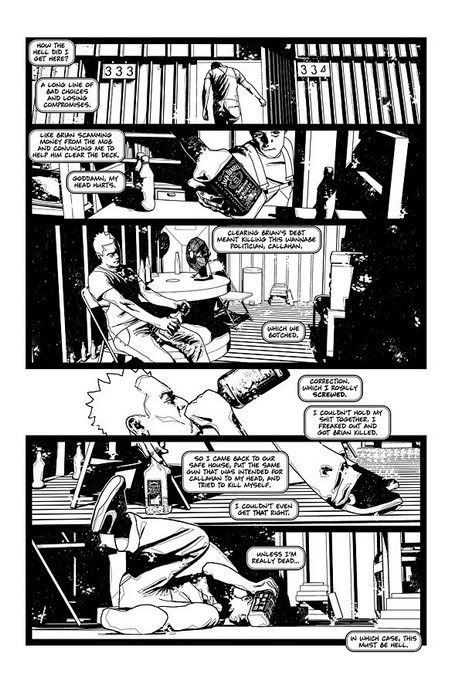 Seeing print after 15 years of revisions and pitching to various publishers, Last Mortal is a study in dogged persistence and Mahoney and Sablik are every bit as resilient as their undying protagonist in their efforts get their creation published. Despite being saddled with an unsympathetic lead and wooden characterizations across the board, the book still manages to entertain for the most part, buoyed up by the solid artwork of Thomas Nachlik and a collection of surprisingly instructive bonus material.
The "Last Mortal" hardcover is on sale now
Discuss this article below or contact the author

via e-mail