Published on Saturday, March 24, 2012 by Zedric Dimalanta
From the back cover
The infamous pre-Code Crime Does Not Pay comic books are finally collected into a series of uncut and uncensored archival hardcovers!

With brutal, realistic tales focusing on vile criminals and malicious mobsters, Crime Does Not Pay was one of the most popular comics of the 1940s and the first "true crime" comic book anthology. Crime Does Not Pay was heavily targeted by censors and was partially responsible for the creation of the stifling Comics Code Authority. This collection of the first four hard-to-find Crime Does Not Pay comics features a fine roster of golden-age creators, a fully loaded cache of violent tales and bizarre biographies, and a new introduction by Eisner Award-winning writer Matt Fraction (The Invincible Iron Man, Casanova)!
Publisher, Creative Team, Format, and Pricing Details
Publisher

: Dark Horse Books (a division of Dark Horse Comics)

Year Published

: 2012

Collection Editor:

Philip Simon

Consulting Editors:

Denis Kitchen and John Lind

Assistant Editor:

John Schork

Collection Designer:

Amy Arendts

Digital Production and Retouch:

Ian Tucker

Original Series Editors:

Charles Biro and Bob Wood

Stories by:

Various

Art by:

Various

Format:

272 page full-colour hardcover (collects Crime Does Not Pay #1–4, originally published in single magazine form by Lev Gleason Publications)

List Price

: US $49.99/CDN $54.99 (digital review copy provided free of charge by the publisher)
What I Liked
Dark Horse Books' Crime Does Not Pay Archives Vol. 1 reprints the first four issues of the eponymous crime anthology comic. For that reason alone, I think any reader who has an interest in the history of comics should consider picking up this hardcover title. The Lev Gleason publication, one of the most popular comics of the 1940s and early 1950s (with a monthly circulation of over one million at its peak), was virtually banned soon after the comics industry's self-imposed Comics Code went into effect in 1954 and has not been reprinted in the almost six decades since its demise.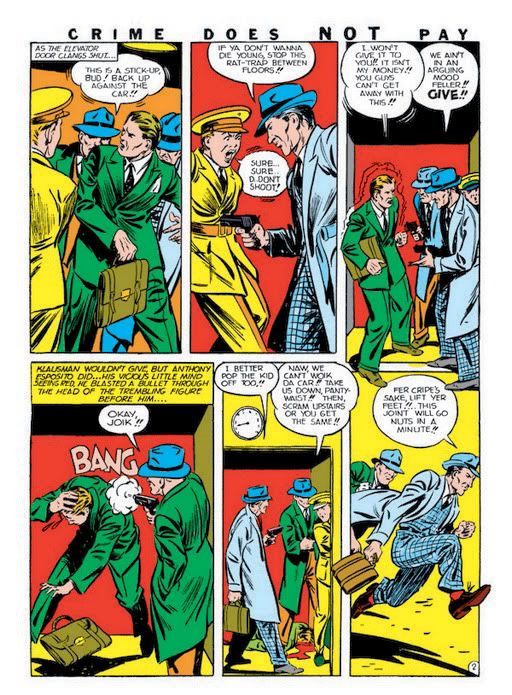 Crime Does Not Pay's legend in the comics community has grown in the years since it last saw print, and it is an absolute treat for an avid fan of the medium like me to read these anthologies for the first time. Of course, with changing social mores, the material in the book, infamously demonized by psychiatrist Fredric Wertham in his inflammatory book Seduction of the Innocent and his testimony to the Senate Subcommittee on Juvenile Delinquency, is actually no more violent or prurient than what you see in today's comics (I'd argue that Crime Does Not Pay is actually more restrained than many of today's titles) or even the popular mobster films, war movies, and Westerns of the era.
Even divorced from historical and academic context or an "ironic" appreciation of low art however, the content is genuinely entertaining stuff in the pulp fiction mold, featuring competent comics art typical of the time period. Most of the stories are cautionary tales of questionable factual accuracy written by co-editor Charles Biro, invariably ending with the criminal protagonists dead or incarcerated, but not before a lurid and sensationalized recounting of their exploits. There are also a number of stories that aren't strictly of the "true-to-life crime" variety, including a comic book biography of Wild Bill Hickok and a piece featuring The War Eagle, a Nazi-thumping patriotic superhero who looked like the love-child of Captain America and Hawkman.
Acclaimed comics writer Matt Fraction provides a humourous and informative foreword, and besides the original stories, the volume also reproduces some of the essays and old print ads for war bonds found in the original comic.
What I Didn't Like
While this archival collection is obviously aimed at readers already familiar with Crime Does Not Pay's place in history and the part it played in the notorious 1954 comic book hearings, some contemporary text pieces—maybe relevant excerpts from David Hadju's The Ten-Cent Plague: The Great Comic-Book Scare and How It Changed America or Gerard Jones' Men of Tomorrow: Geeks, Gangsters, and the Birth of the Comic Book—to put the title in its proper historical context would have turned an already excellent book for comics aficionados into an instructive read for comics history neophytes.
The Verdict
An invaluable historical resource and an entertaining read in its own right, Dark Horse Books' Crime Does Not Pay Archives Vol. 1 is highly recommended for readers with a serious interest in the history of comics and makes for an outstanding addition to the comics and sequential art collection of public, private, and academic libraries.
The "Crime Does Not Pay Archives Vol. 1″ hardcover is on sale now
Discuss this article below or contact the author

via e-mail