Published on Sunday, April 1, 2012 by Zedric Dimalanta
From the back cover
Gary Gianni's occult detective series The MonsterMen, first published as backups in Hellboy, is collected here in its entirety. Well known for his run on the syndicated newspaper comic strip Prince Valiant and his Eisner Award–winning Batman story 'Heroes,' Gianni breaks out with this bizarre adventure comic filled with zombie cowboys, squid pirates, abominable snowmen, and a mustachioed skull, all facing off against the swashbuckling protagonist, dressed at all times in a tuxedo and a knight's helmet.

Also featured in this collection are classic prose stories by Robert E. Howard, William Hope Hodgson, Clark Ashton Smith, and others, brought to vivid life by Gianni's intricate illustration.

'These are (along with a few issues of Stan and Jack's Fantastic Four) my all-time favorite comic book stories.'

–Mike Mignola (Hellboy)

'Gianni is a master—The MonsterMen leaves no doubt: the dude knows how to rock a comic-book page.'

–Michael Chabon (The Amazing Adventures of Kavalier and Clay)
Publisher, Creative Team, Format, and Pricing Details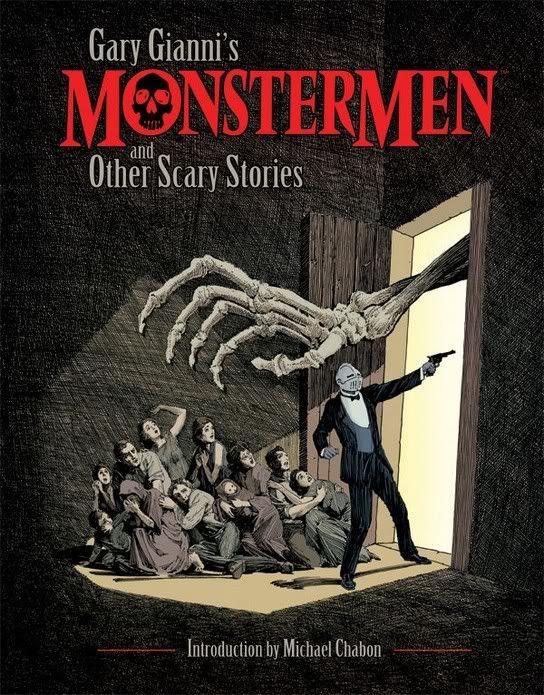 Publisher

: Dark Horse Books (a division of Dark Horse Comics)

Year Published

: 2012

Written and Illustrated by:

Gary Gianni

Additional prose material by:

William Hope Hodgson, Robert E. Howard, Perceval Landon, and Clark Ashton Smith

Lettering by:

Sean Konot, Todd Klein, and Clem Robins

Collection designed by:

Jim & Ruth Keegan

Format:

168 page black & white hardcover (collects comics and illustrated prose stories originally published in Hellboy: Wake the Devil, Hellboy Christmas Special, Hellboy: The Wild Hunt, Hellboy: Almost Colossus, The Dark Horse Book of Monsters, The Dark Horse Book of the Dead, The Dark Horse Book of Hauntings, The Dark Horse Book of Witchcraft, and The MonsterMen: The Skull and the Snowman)

List Price

: US $24.99 (digital review copy provided free of charge by the publisher)
What I Liked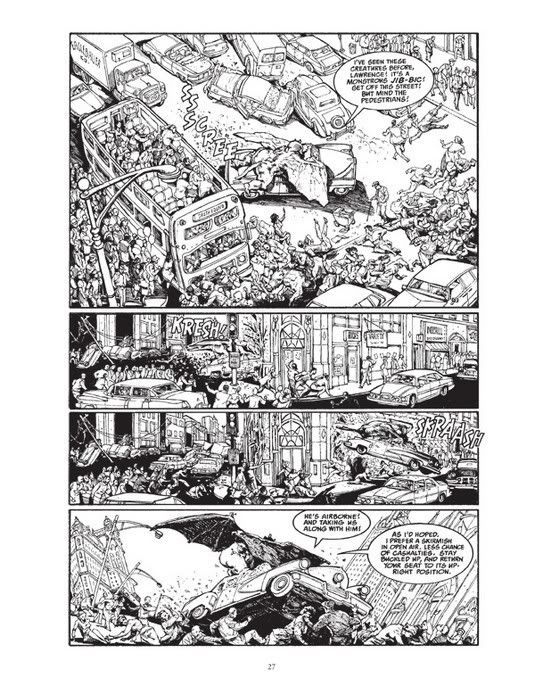 Gary Gianni's MonsterMen and Other Scary Stories is an excellent compendium of modern Gothic horror. The scripts and plots are infused with a sly and irreverent sense of humour and Gianni's highly-detailed pen-and-ink illustrations are stunning, every panel a miniature masterpiece reminiscent of Berni Wrightson and Alex Niño's best horror comics work.
The main draw here for most readers familiar with Gianni's lauded Prince Valiant material should rightfully be the artwork, but the writing has a macabre charm worth noting. Reader comparisons with Mike Mignola's Hellboy and B.P.R.D. mini-series and one-shots will likely be inevitable—the titles definitely share weird fiction and Gothic horror roots as well as pulp magazine sensibilities—but Gianni's peculiar protagonists and their eerie exploits are hearteningly original creations that deserve to be appreciated on their own merits. Stand-out stories in the publication are "Autopsy in B-Flat" and "The Skull and the Snowman," narratives that showcase Gianni's offbeat sense of humour and ability to render the bizarre and the grotesque to their fullest.
Besides the MonsterMen reprints, the book also includes a section composed of Gianni-illustrated prose pieces written by William Hope Hodgson, Perceval Landon, Clark Ashton Smith, and Robert E. Howard, all masters of the Gothic horror and weird fiction forms. These stories offer a slightly more sedate but nonetheless appropriate counterpoint to the out-and-out occult wackiness of the MonsterMen portion of the volume.
What I Didn't Like
Gianni's predilection for the frame story and in medias res opening occasionally results in mildly disorienting sequences, although to be fair, the former is a narrative contrivance strongly associated with Gothic horror and weird fiction. There were a couple of instances where I had to re-read panels and pages multiple times in order to clearly establish the proper continuity of events, but it must be said that any confusion arising from these issues was generally mitigated by the mostly excellent panel-to-panel storytelling employed by the writer-artist.
The Verdict
A beautifully illustrated horror comics and prose collection, MonsterMen and Other Scary Stories features a unique blend of macabre, bizarre, and morbidly humourous elements under the deft control of preeminent writer-artist Gary Gianni. Highly recommended.
The "Gary Gianni's MonsterMen and Other Scary Stories" hardcover is on sale now
Discuss this article below or contact the author

via e-mail