Published on Monday, April 2, 2012 by Zedric Dimalanta
From the back cover
WRITTEN BY A 7-YEAR-OLD AND DRAWN BY HIS 30-YEAR-OLD BROTHER!

Axe Cop is back in a new collection of the Eisner Award-winning webcomic by Malachai Nicolle (age 7) and Ethan Nicolle (age 30), with a foreword by Damon Lindelof! Whether he's fighting night monsters, pulling pranks on Vikings, or teaming up with Dr. McNinja to solve a nefarious pizza theft, Axe Cop will chop his way to the hearts of readers of all ages.
Publisher, Creative Team, Format, and Pricing Details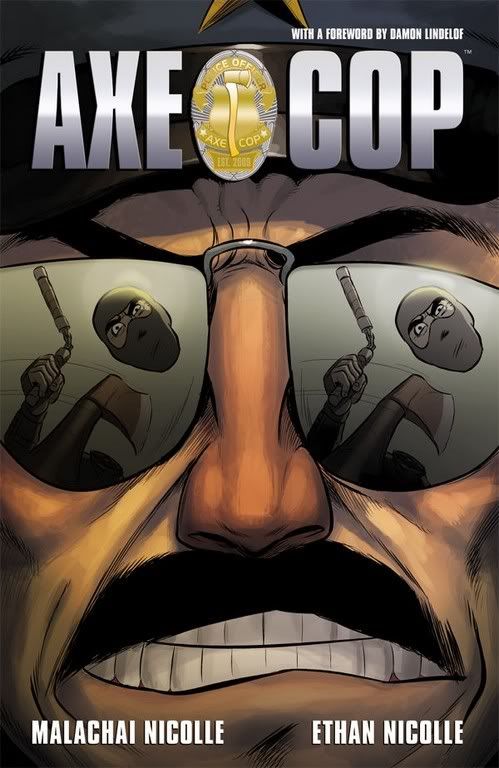 Publisher

: Dark Horse Books (a division of Dark Horse Comics)

Date Published

: March 2012

Written by:

Malachai Nicolle

Drawn by:

Ethan Nicolle

Colouring by:

Dirk Erik Shulz

Format:

120 page full-colour trade paperback (collects the second year of the Axe Cop webcomic)

List Price

: US $14.99 (digital review copy provided free of charge by the publisher)
What I Liked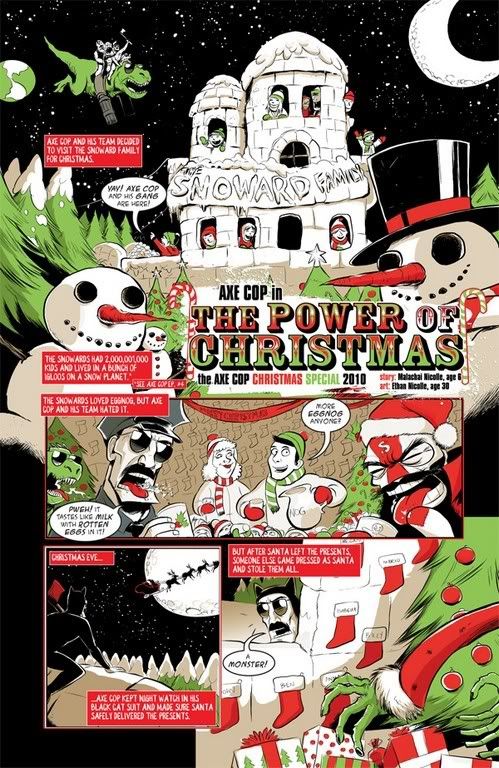 In many ways, the Axe Cop webcomic features superheroics distilled into its purest form: with outlandish characters and bizarre plots drawn from the imagination of seven-year old Malachai Nicolle, Axe Cop's anything-goes-setting and eponymous protagonist perfectly embody what renowned comics artist David Mazzucchelli describes as the "preadolescent world" of the superhero and the superhero as a "little boy stuck in a man's body."
Axe Cop's arbitrary adventures will immediately feel familiar to just about any reader who grew up improvising conflict-based storylines for role-play interactions with toys and other children. Readers who are fond of Bill Watterson's Calvin and Hobbes comic strip—Axe Cop calls to mind Calvin's role-playing adventures as Spaceman Spiff and Stupendous Man—will almost assuredly find this volume similarly enjoyable reading.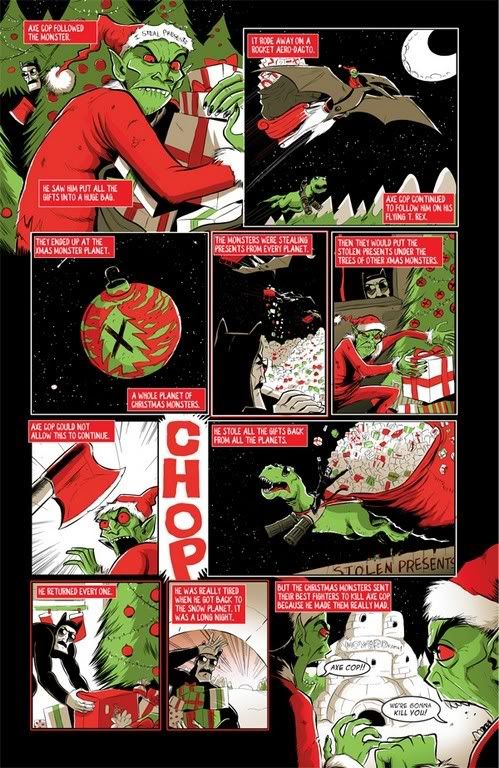 The fact that this is the third volume in the series shouldn't dissuade potential readers from trying the book out. It's easy enough to get up to speed by reading the webcomic's archives or tracking down the previous two volumes and to be honest, a reader unable to follow the mid-series continuity in a superhero comic plotted by a seven year-old probably has bigger issues than whether or not he should buy a certain trade paperback.
While there's a genuine naïve art appeal to the plotting and character designs, the technical craft and overall creative supervision by main artist Ethan Nicolle are anything but amateurish. Based on his accounts of their creative process, his ability to refine, direct, and contextualize his younger sibling's contributions to the webcomic enhances the book significantly.
What I Didn't Like
A concern with print collections of extant webcomics like Axe Cop is whether or not the former are worth buying when the latter are freely available to anyone with an Internet-connected personal computer, tablet, or smartphone. I personally feel that the $14.99 list price is fairly reasonable given the volume's page count but I've always preferred reading comics on paper over reading them on a screen and to me, the logistical convenience of not needing a powered digital display device and an Internet connection to read a comic generally supersedes any conveniences afforded by reading comics for free on the World Wide Web (besides, "free" webcomics aren't really free, there's still the bandwidth and energy consumption cost to consider). Still, I can understand why potential buyers might balk at purchasing the print version in favour of the nominally free online version.
The Verdict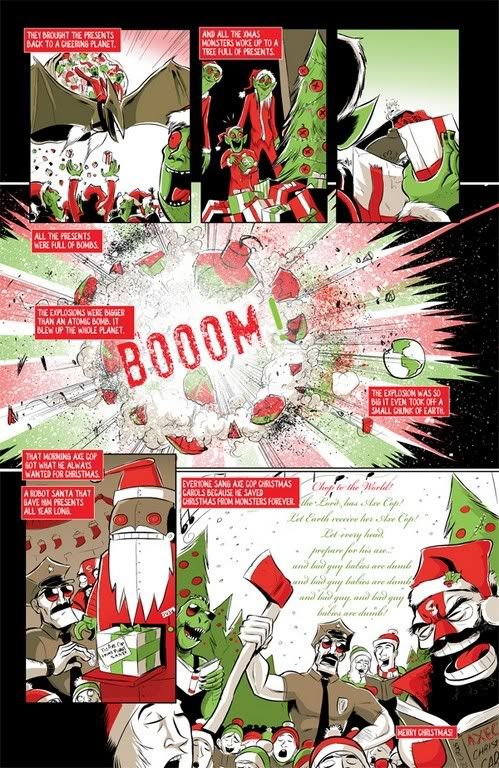 Axe Cop, Vol. 3 is fun, lighthearted superhero reading that can be enjoyed by readers of all ages. The fact that the original webcomics can be read online for free tempers my enthusiasm for the physical product somewhat, but regardless of format, any fan of superhero comics should check Axe Cop out. Recommended.
The "Axe Cop, Vol. 3″ trade paperback is on sale now
Discuss this article below or contact the author

via e-mail