Published on Tuesday, April 17, 2012 by Zedric Dimalanta
Hopefully, the 31-page preview we recently posted of Courtney Crumrin, Vol. 1: The Night Things has provided you with enough information about whether or not this book is for you. Still need help deciding? Read on for the full review!
Key Review Points
Pros:
Gripping, self-contained, and highly entertaining all-ages story.
Charming character designs.
Excellently executed sequential art further enhanced by the addition of Warren Wucinich's colours.
Cons:
The young protagonist's occasional displays of seemingly-adult cynicism can be jarring.
Publication Details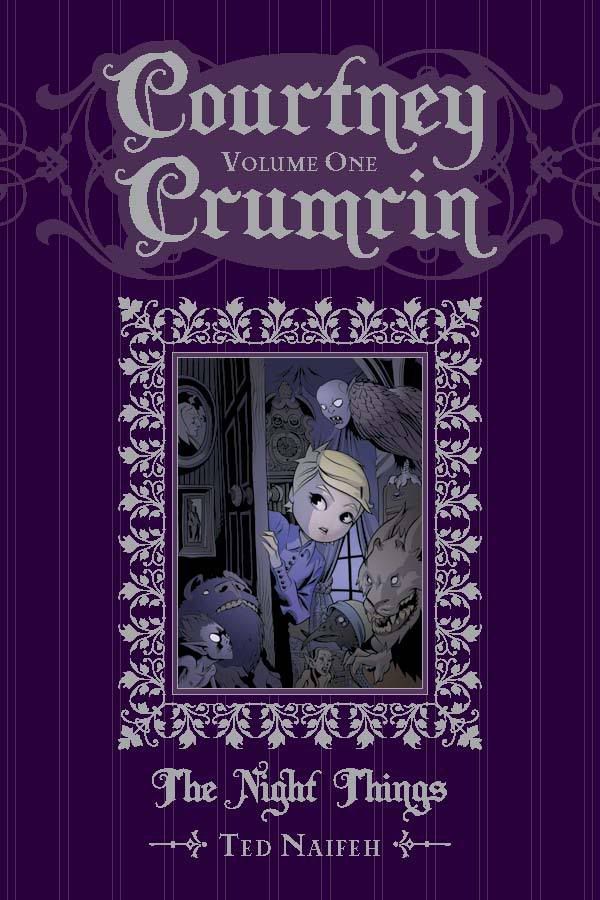 Publication Date

: April 2012
Written & Illustrated by:

Ted Naifeh
Coloured by:

Warren Wucinich
Format:

144 page full-colour special edition hardcover; reprints Courtney Crumrin and the Night Things #s 1–4, originally published in single magazine format in 2002 by Oni Press.
List Price

: $19.99 (digital review copy provided free-of-charge by the publisher)
Full Review
The "all-ages" label can be quite troublesome when applied to comics and comics-related publications. On the one hand, it signals to parents and educators that a particular comic book or graphic novel is appropriate reading material for the primary school set. On the other hand, older readers as well as young readers who regularly read above their age-level might casually dismiss an "all-ages" book as eminently disposable, silly pap designed to pander to the immature. Those who deliberately miss out on Ted Naifeh's Courtney Crumrin, Vol. 1: The Night Things because of concern that it's meant for children would be doing themselves a disservice, though: the book is proof positive that "all-ages" doesn't have to be synonymous with "unsophisticated."
One of the book's greatest strengths is that each of the chapters it comprises are gripping, self-contained, and highly entertaining fantastical narratives by themselves, but there is also an unobtrusive continuity and character development arc that ties the chapters together into a coherent and freestanding whole that doesn't hold the reader hostage with contrived attempts at generating suspense.
Naifeh doesn't hold back (within reason and good taste) on the occasional violence and horror, nor does he settle for easy and clean story resolutions. As the writer-artist rightly observes in the in-character foreword [The foreword was actually written by Kelly Crumrin, Naifeh's friend and whose surname served as the inspiration for the character's own—ed.], children know more about the perils of the world than they let on, and that the truly classic and timeless children's tales are the ones that are "subversively honest about life's ugliness."
The book earns top marks for the art. Naifeh's character designs, particularly for Courtney Crumrin and her classmates, are charmingly stylized. The backgrounds are filled with crisp detail, in-panel perspectives are varied, the visual storytelling is clear, and facial expressions and body gestures are easy to interpret. From what I can gather online, what makes this a "special edition" hardcover is the addition of Warren Wucinich's perfectly executed colouring, as previous collections of the title seem to have been published as black-and-white digests.
If I have one misgiving about the book, it is that perhaps in avoiding pat moralizing and "dumbing down" the material, Naifeh might have swung too hard in the opposite direction. The young Courtney occasionally exhibits a jarringly adult sense of cynicism and bitterness that threatens to turn her uncompromising and largely positive—if blunt—"take me as I am" attitude into a more grim and quirky variant of the same shallow, manipulative, and frequently mean-spirited disposition that afflicts the people in her school and neighbourhood. Not having read the original mini-series though, I do wonder if this is a result of a conscious character-development decision on Naifeh's part, and if it will be addressed in future volumes as Courtney continues to mature and grow into young adulthood.
Ted Naifeh and Oni Press have done a great job with Courtney Crumrin, Vol. 1: The Night Things, and comics readers of all ages and genre preferences should do themselves a favour and check it out.
Highly recommended.
The "Courtney Crumrin, Vol. 1: The Night Things" special edition hardcover is on sale now
Interior Page Previews
Discuss this article below or contact the author

via e-mail