Published on Wednesday, April 18, 2012 by Zedric Dimalanta
If you're going to read only one horror comics collection this year, make sure it's the Severed hardcover. Find out why by reading the Leaving Proof review.
Key Review Points
Pros:
Genuinely affecting horror that doesn't rely on cheap shocks,  gratuitous gore, or blatantly recycled tropes.
Beautifully-realized period setting.
Masterfully illustrated and coloured.
Cons:
None of significant note.
Publication Details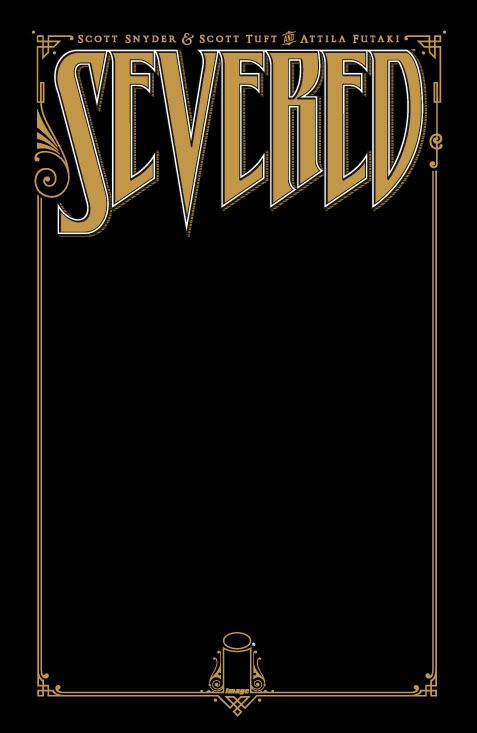 Publication Date

: April 2012
Written by:

Scott Snyder and Scott Tuft
Art and Covers by:

Attila Futaki
Colouring (Chapters 4–7) by:

Greg Gilhaumond
Additional Inking by:

Bill Nelson
Lettering and Design by:

Steven Finch of Fonografiks
Format:

192 page full-colour hardcover; reprints Severed #s 1–7, originally published in single magazine format in 2011 through 2012 by Image Comics.
List Price

: $24.99 (digital review copy provided free-of-charge by the publisher)
Full Review
The comic book medium affords the properly motivated writer and artist unrestricted opportunities to go out and do something original: all settings and time periods are up for grabs, the prop and special effects budgets are only limited by the artist's imagination and skill, and really, any subject matter or stylistic approach is fair game. So it is a matter of mild frustration to me as a lifelong comics reader that so many comics creators seem intent on continually rehashing tired formulas under the flimsy pretense of "homage" or "deconstruction."
The only formula Severed adheres to, as far as I'm concerned, is the one that says great writing coupled with great art makes for great comics. While the rest of their horror comics peers perfunctorily regurgitate zombie and vampire tropes with increasingly diminishing creative returns, the writing duo of Snyder and Tuft have managed to produce a work of genuinely affecting horror that doesn't solely rely on cheap shocks, gratuitous gore, or the preprocessed familiarity with genre convention. Severed is a story about a twelve year-old's search for his absentee father across pre-Depression America and the cannibalistic terror that he encounters along the way, but it is a story deftly shaded by subtle psychological frights that exploit our dread of betrayal, failure, and the loss of family and friends. This is stuff reminiscent of vintage Ray Bradbury or the best of Stephen King's short horror fiction.
The early 20th century setting—a bold choice, in my opinion—is beautifully realized in the writing and especially in the art. Hungarian artist Attila Futaki's work on this title is comparable to that of Tommy Lee Edwards' comics work (particularly on Marvel 1985), vibrantly textured and meticulously detailed, but never to the point of being overly-busy or distracting. The soft, slightly muted colours complement the line art style particularly well, giving the book an almost dreamlike atmosphere in certain scenes and lending a claustrophobic, nightmarish quality in others.
Given everything the book does right, the Severed hardcover can be nothing less than the leading candidate for my choice of the best contemporary comics reprint/collection of of the year, and it is arguably the best horror comics title I've reviewed for the Comixverse thus far.
Very Highly recommended.
The "Severed" hardcover is on sale now
Interior Page Previews (Click on images to view in larger size)
Discuss this article below or contact the author

via e-mail