Published on Sunday, May 6, 2012 by BigIV
Scarlet Spider and Venom are both currently revisioning characters from the Spider-Gallery. For my money, Venom is being slightly more successful creating a different take on a familiar character. Now another new version of the old favorite is being added to the line up.
Eddie Brock is back in this issue. He was last spotted gunning down symbiote hosts several issues ago.
Flash Thompson is still struggling to find his path. Part of him wants to use sniper skills to stop several problems with a single bullet. However, part of Flash Thompson is struggling to assassinate someone. The brooding anti-hero of this comic title is already lying to Hank Pym of the Secret Avengers in this issue.
Venom faces a gauntlet of doom as the Crime-Master unites Jack O'Lantern, The Human Fly, Toxin and more to destroy Flash Thompson!
The Crime-Master's plan is so diabolical, so vile, that it forces Eddie Brock to become a symbiote's host once more – and takes the war to Flash Thompson's Family, Betty Brant and even Peter Parker!
This series is fast paced. Instead of watching several secret agents accidentally bond with the suit–although that is mentioned–it jumps straight to Flash Thompson quickly losing control. Now, on the heels of Circle of Four and Venom joining Secret Avengers, another story arc is pulling agent Venom into a new peril. No rest for the weary.
No rest for the buyer either. I've been able to skip Secret Avengers most recent issue since it ties into AvX, but now I only have two weeks before the next Venom issue. May 16th is when issue #18 takes the fight to Betty Brant.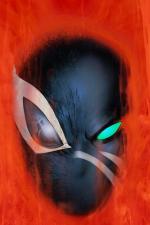 The 24th year of Venom still seems like an odd landmark to note. It is odd marketing hype. However, this is truly going to be a year of Venom. After the crazy numbering with the weekly Circle of Four, the Sinister Six arc is coming fast and steady. Rick Remender and the Venom team are churning out some Venom greatness. Why wait for monthly comics when this cool title is happening fast and furious.
The Savage Six arc features Cullen Bunn on art. Bunn, Sixth Gun, delivers a great first issue and I expect great issues in the future. Bunn does a nice job making the living uniform look fluid. The muted monster has yet to open up as Thompson loses control, but some hints of agitation are already there in the first issue.  It'll be curious to see how Bunn draws the out of control agent alien suit.
It is also curious that the Savage Six is only a five part arc. Given the name, it looks like a sixth part would round things out nicely. Shaping the arc for the inevitable trade paperback will probably be fine. Remender works well in five issue units.
This is a fine issue in a series that everyone should be reading.