Published on Monday, May 14, 2012 by BigIV
Collaborative story telling dates back to ancient civilizations. Dramatic history, narrative history, and most forms of literature track back to a collaborative effort.  Collaborative creation is a social dynamic which makes the story a part of the community that created it. The social aspect allows the community to reflect values and norms. The social aspect also allows the community to be an active audience.
Collaborative story telling was not celebrated by a literary history that seems determined to privilege the individual genius of singular creators. Fascination with singular creator personalities led to biographical studies which could be equal parts scandal and study in celebration of the singular genius. This focus on the individual creator ignores Dorthea Wordsworth strolling with her brother William exploring ideas beside of him. This focus on the individual creator forgets that actors would ad lib because of audience pressures even with the actor/playwright Shakespeare on stage beside of them.
Despite the emphasis on the individual creator, collaborative story telling never disappeared. Newspapers, drama, music, and other specific genres drew heavily from collaboration. At times this was a collaboration between creators and at other times it was a collaboration between performers and audience.
Two areas that collaborative story telling take place in the modern moment are on the table top and beyond the comic page.
Table Top, a regular show on GeekandSundry has helped re-excite my inner-table-top-gamer. Both of the initial episodes has left me wanting to purchase the game and call friends for a game night. Both episodes have found me buying games and having game nights even if I have yet to pick up Small Worlds or Settlers of Catan.
Table top gaming is a great example of collaborative story telling, a game designed by creators afar are manipulated by a fellowship of audience members together. Most table top games provide the secondary creation and mechanics along with pieces of the story line. Choices of the characters, plot, is finished by the playing audience engaged in the dynamic of the story.
While I am still eagerly awaiting the release of Mobile Frame Zero:Rapid Attack, I am hooked on the Lego Games. Lego Games allow the audience to build the board and play the game. Like all table top games the secondary creation of world building has been completed by game designers.  The mechanics and rules were also developed by designers. The game line up ranges from simple to complex role playing games with multiple world modules. Unlike most table top games the Lego line up also encourages the audience to manipulate the secondary creation, boards, and rules. Lego encourages the players to manipulate every aspect of these games.
Table top games and comics are not mutually exclusive entities when discussing collaborative story telling.  Properties like Dungeons & Dragons and Heroica bring these genres together. Dungeons & Dragons is a classic gaming property that has become synonymous with table top role playing games. D&D is also a property that has been converted into cartoons, movies, and comics. The world created within the game has been translated from genre to genre and provides the audience various entry points into that world. The entry points allow for the audience to become an energized active part in the collaborative story telling, either by fantasizing other adventures or rolling the die to figure out what happens next in table top dungeons. Heroica is not yet as classic as D&D, although the Lego product shares a similar adventure manipulation identity that can attract an actively engaged audience. Heroica may not have yet conquered as many forms of media and become a household name, but it has a similar collaboration in story telling.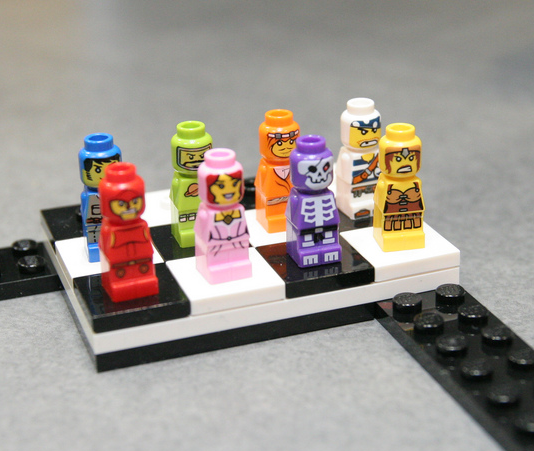 While I wasn't a huge fan of the Bionicle Comics, I hope that those robot stories are paving the way for comics to help flesh out the world of secondary creation in the Heroica audiences so that they can enjoy even more collaborative story telling.