Published on Wednesday, May 30, 2012 by BigIV
Young Justice #16 was part of Free Comic Book Day. The Artemis/Green Arrow and Batman/Robin portions were teased this year in a collection that included the Green Lantern Animated comic. The full issue is now available at your local comic book shop.Young Justice is one of the titles that can help introduce new readers to DC comics. This property is positioned to draw in new readers. The comic fits into the gaps between animated episodes. This comic also features characters that are incorporated elsewhere in the new DC 52 reboot under the umbrella term of Young Justice characters: Young Justice, Teen Titans, Legion Lost, Ravagers, and Super Boy titles. These Young Justice characters even have toys on the toy shelves…even if they are crappy.
Christopher Jones creates art that looks familiar to cartoon fans. This is well delivered art.
Because Young Justice has fun characters, great stories, cool art, and the potential for bringing in new readers this is quickly becoming my favorite comic from DC. This accomplishes a lot for $2.99.
Writers: Kevin Hopps & Greg Weisman
Colorist: Zac Atkinson
Letterer: Dezi Sienty
Editor: Jim Chadwick
Weisman and Hopps have crafted a great multi-part story within this single issue. The wards and their mentors are paired up on separate patrolling. The heroes and mentors story, "Common Denominators," is a nice peek at the dynamic between the pairs. Since the comic and cartoon typically focuses on the young heroes as a team it is nice to glimpse the older heroes too.
The three separate adventures have black clad commonality and comes together at the end as the six heroes team up to go after Kobra!
This is a fun comic that works truly as an all ages comic. Robert Kirkman and Brian M. Bendis are still working on perfecting their all-ages comics but Weisman and Hopps  have nailed the story telling.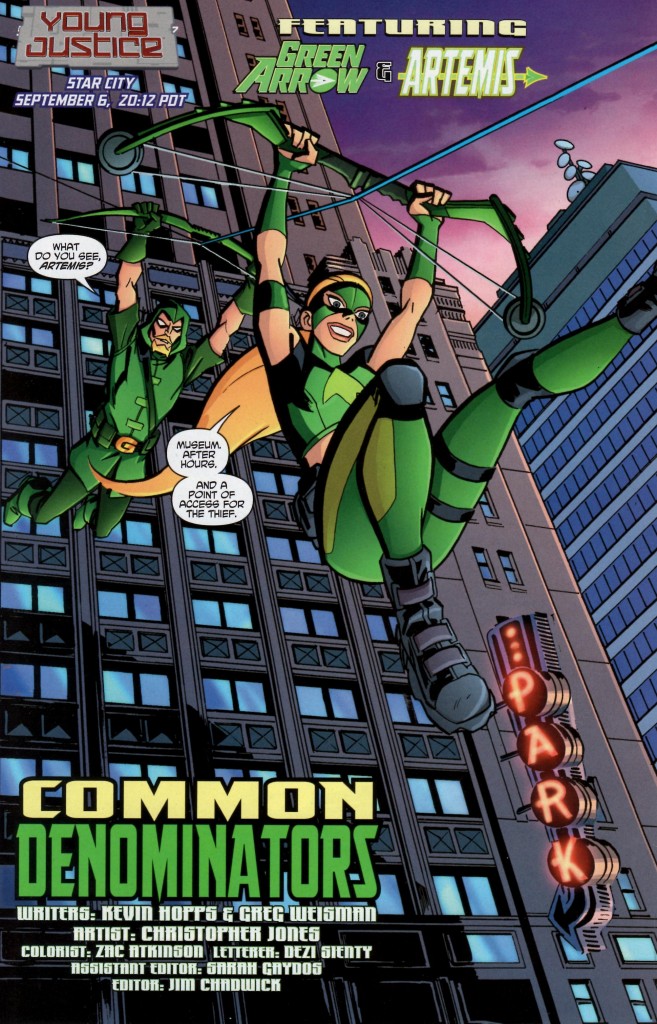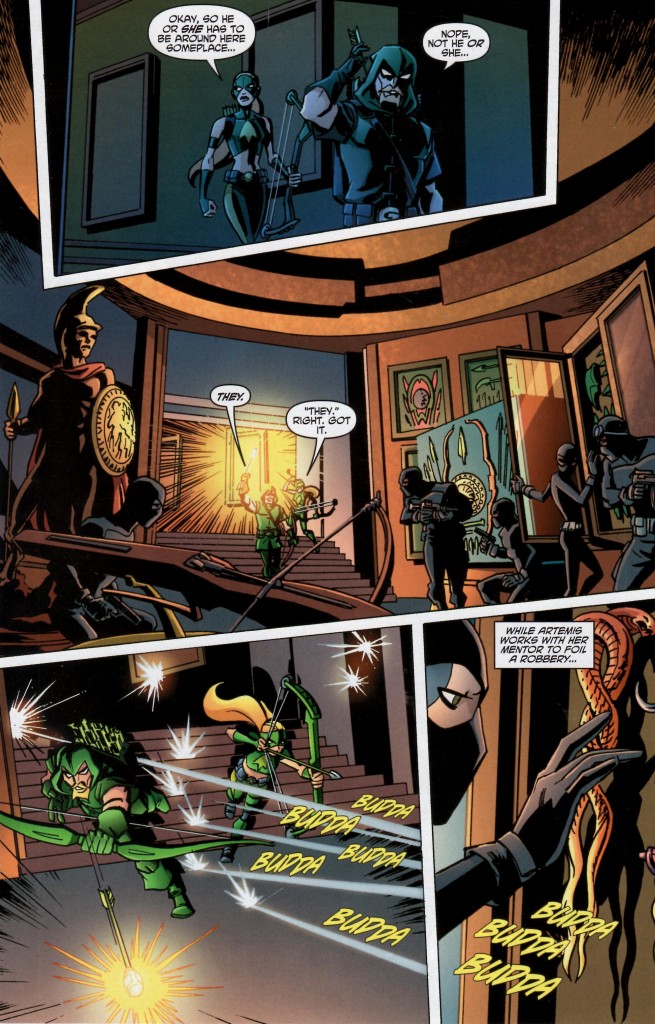 At the end of the comic is a two page feature detailing the "freshman" class of heroes: Blue Beetle, Beast Boy, Wonder Girl, and Lagoon Boy. Since season 1 and season 2 of the animated counterpart skips five years it will be interesting to see how the comic handles that jump. In the companion cartoon first seasons Robin is now NightWing. This comic seems to have kept Robin as Robin for now. Introducing Wonder Girl–a character in the original Young Justice line up– should prove interesting. My favorite version of Peter David's take on Wonder Girl was the original brunette geeky girl unsure of herself. The confident blonde was slightly less fun. It will be curious to see how Wonder Girl is handled in future comics.
Next issue will pit Young Justice and mentors against Kobra. Weisman and Hopps are returning to the roots of Kobra.
Kobra History: Kobra is occasionally credited to Jack Kirby even though that is not quite true. Kobra is the name used by two fictional supervillains published by DC Comics. The Jeffrey Burr Kobra first appeared in Kobra #1 (February 1976), and was created by Martin Pasko, Steve Sherman, Jack Kirby, and Pablo Marcos. Weisman and Hopps are returning to the Jeffery Burr/Jason Burr gemini style character.  Steve Sherman's version of how this comic came to be includes the guiding hand of King Jack Kirby making a few needed changes. A straight forward spy story became something different when Kirby made the agent and cult leader twin brothers that felt each other's pain. Kobra is regarded as Kirby's last project at DC before leaving for Marvel comics.
Besides trying to wrest control of the world, Kobra also led his own cult with a heavy use of the snake theme. These snake clad villains inspired Hydra at Marvel which then inspired Cobra to fight G.I. Joe. Marvel's Serpent Squad and Serpent Society come along in there too. These snake men all owe a debt to Steve Sherman and Jack Kirby's hard to find 1976 limited series. Most of the original Kobra series occurred after Jack Kirby left DC comics. The original series needs to be reprinted for Kobra fans! Until then, Kobra fans will have to chase the villains through various iterations and hero comics.
Kurrently, Kobra is led by a different cowled leader in most of the DC universe. The newest version was featured in a January 2009 Faces of Evil one-shot, written by Ivan Brandon. Kobra can also be found plaguing the future of the DC Universe in Batman Beyond's 90s comics, cartoon, and newest run in Batman Beyond Unlimited.
Kobra Recommended Reading: Besides this Young Justice series, some other recommended Kobra reading would include:
JSA vs Kobra
Kobra: Resurrection
Batman Beyond Unlimited
Collected Jack Kirby Collector vol 5
Young Justice Kobra: Already revealed in Young Justice #16 is that scientist Jason Burr is being abducted by the Kobra cowled Jeffery Burr and company. Weisman and Hopps are returning to some of the roots of this Klassic character.
Batman Beyond Unlimited Kobra: Recent issues of Batman Beyond Unlimited have featured the futuristic Justice League struggling against the Kult trying to end the world again.