Published on Thursday, July 12, 2012 by BigIV
I might as well dub this unofficially Super-soldier week since we're reviewing Venom #20, Bloodshot #1, and Captain America # 14  and each are distinctly different takes on super soldiers and serious spy ethics. Captain America is still on the trail of Hydra, like he has been recently, even though he has been sidetracked by an old friend as the new Scourge.  The elder super soldier available this week, he is still a moral compass compared to the two newcomers Venom and Bloodshot.  Bloodshot is relaunching the Valiant summer in full gore and moral ambiguity of a man corrupted by an even more soulless government.  Venom is the new Marvel secret agent ran by a shadow group until he lost control and was begrudgingly brought into the Secret Avengers.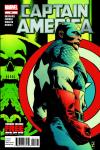 Without spoiling the issue, I'm not sure if I should say that the Scourge story was wrapped up in issue #14. In fact, I'm not even sure that it was. Spoilers subtly noted, Scourge dies in this issue. However, Gyrich's odd manor seems to belie something else at play.  The Scourge distraction is pulled into the larger web of problems being presented by Bravo and the New Hydra.
Swirling through all of that is that classic ethical quandary faced by all heroes but over and over again by the long running Captain America: to kill or not to kill.  Cap makes the choice that one might expect.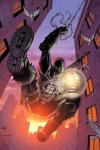 Captain America has that boy scout image to uphold. That idealistic demeanor helped throw him into conflict with another Marvel secret agent, Venom, way back is Venom #10. Cap sent Red Hulk after the rogue Venom after Spider-Island and throughout the Circle of Four story. Under the symbiote, Flash Thompson really does seem like he would like to be Captain America and Spider-Man when he grows up. Unfortunately, life, addiction, and other problems will ensure that Flash remains far from the ideal of Captain America. Secret agent Venom keeps make the dirty choices.
Rick Remender steps aside with Venom #22 and pens the "defining hour" of the hero. Venom #20 indicates that this hero is willing to let that direction be neck snapping and wing pulling.
Valiant's revival of Bloodshot could be the anti-Captain America as a soldier tuned by science to be unstoppable but not gifted with Cap's inner fortitude, or at least has had the idealism washed away by more technology. This is ground that has been covered in the red, white, and Marvel hero before, but Valiant's character is trying to find new material to cover. Bloodshot amps up the science by using nanotechnology to make the muguffin of being anything the writers need when they need it as well as more cutting edge than a super serum. Like Venom, Bloodshot is less than wholesome and not as concerned with the body count. When the brainwashing stops…and it invariably will in bloodshed…the title suggests that this character will remain far from the militant pacifist that is Captain America.
Variation on a theme can be fun and is in no way meant to be a slam against Valiant. In fact, I find it encouraging that the title can find a long lasting trope to explore.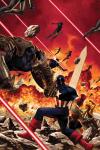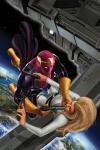 Of course the future for Captain America will be balancing perils and principals. The future of other comic super soldiers is far from as clear.
Will Captain America ever speak out against steroids even though his soldiering might is a result of chemo-manipulation? Hard to say. Will these titles and others keep pumping out stories about shadowy government agencies trying to create and control the ultimate weapon? As long as publishers suspect that readers are willing to respond to distrust in the system. Captain America may be one of the original super soldiers but he is far from alone anymore.