Published on Thursday, July 26, 2012 by BigIV
Every time I read about a book delivering late, I remind myself how thankful I am that Marvel's Venom is not only on schedule, but moving quickly. These issues are coming quickly. Two authors and a host of artists are keeping this title barreling ahead.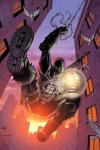 Venom #21 is the fourth part of the five part story although it seemed to resolve in this issue. I'm double checking if this is a five part arc or not. Five seems to be the magic number for trades. Five seems to be the number the Rick Remender was writing in for this series. One of the main threats seems to be dispatched. A few problems do seem to be looming, although Betty Brandt seems in less danger at this point in the story arc.
In previous reviews, I have situated Venom in the Spider-titles, super soldier titles, older Venom trades and stories, and struggled to understand month after month what role this book is playing in the larger Marvel role. All of that still applies in this issue.
Yet again, in this issue Venom is clearing his rouge's gallery. While very few people stay dead in comic books, Venom is at least temporarily clearing his roster. Since Rick Remender is writing his way off of this title and handing over the duties to the incoming writer Cullen Bunn perhaps that is appropriate. Issue #21 is a slug fest and roster clearer tying up several things from the Remender portion of the book. The stage is set to see what direction Bunn will take this title in the future.
Venom #21 also establishes Venom's link with the Secret Avengers. While Venom has been operating as a solo operative in this last story arc, and in nearly every issue of his title even after joining the Avenger ranks, it will be curious to see if Hawkeye, Pym, Valkyrie, McCoy, and other S. Avenger characters will be popping up in the future of this title. Venom has seemed to be a back of the panel character in Secret Avengers thus far. As AvX goes away, it will be curious to see how Venom is used in Secret Avengers just as how the Secret Avengers will appear in future Venom issues.
Issue #21 may not be a great starting point for new readers, but they are wiping the slate clean to leave room for new readers to jump aboard. If you haven't checked out Venom then let your local comic shop know you want to start next month.