Published on Monday, August 27, 2012 by BigIV
I read Rex, Zombie Killer before it found a home at Big Dog. Since that title is now being printed by Big Dog, I tried The Legend of Oz: Wicked West. 2 for 2 I enjoy both titles. Because I like both titles it was easy for me to become interested in Ursa Minor.
Ursa Minor fits into the horror comic genre making it closely related to Rex, Zombie Killer, yet is a distinctly different comic book vision. Penned by the same writer as
The Legend of O

z
, this shows the range of comic genres that Tom Hutchison can produce.
Readers have many choices when deciding how to spend their comic book money. With the big 2 rehashing retcons, it is nice to remember that smaller companies often explore new avenues and ideas. Buying small press books often feel like a gamble. I've bought my share over the years of books that I wanted to take back. So far, Big Dog Ink is turning out a more consistent product that should make it easier to buy into their small press offerings when they pop up at your local comic book shop.
In my mind, quality small press books should be an easier  buy than the big companies rehashing.
Ursa Minor has been out for a few weeks, but we have missed reviewing them, so I am going to cover both #1 and #2–and probably also mention that Legend of Oz #6 ships this week!–in this review of quality comics from a small press.
Ursa Minor #1
The summer of 2012 may be fading quickly into the fall of 2012, but Tom Hutchison's new horror mini series, Ursa Minor, seems to be finding its spring.  Hutchison attempts to breathe new life into a horror world where vampires are common and werewolves are endangered.  A protagonist steps forward to return the natural supernatural balance and save a race from extinction. Hutchison is penning the horror comic genre equivalent of a PETA ad? Not quite, but supernatural ecology is a fun twist. Joining writer Tom Hutchison is artists Ian Snyder and Sony Merbitt and Colorist Luis Guerrero.
Snyder and Merbitt do a great job illustrating the young lass into a well constructed world. The page layouts are good,and the art is better. The art helps this story flow.
For Tim Seeley fans that want strong female leads in horror/action comics with a little up-skirt action I will point out that a large chunk of this comic takes places in a strange burlesque club of thongs, wings, and bear hats.
Honestly, When I first saw an ad for Ursa Minor in the back of Rex, Zombie Killer, I thought "were-bear" chuckled and didn't think about it anymore. After being impressed by The Legend of Oz: Wicked West I realized I needed to read Ursa Minor to see if it was more than just a joke. I'm glad I gave it a read.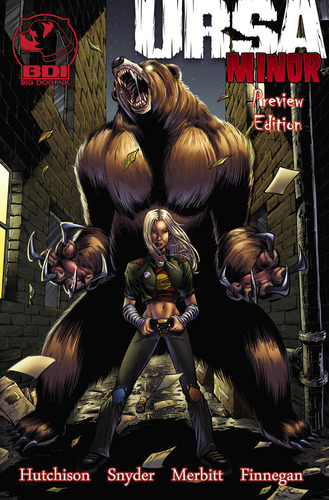 What I found was a comic that opens fast in the future and creates a distinctly different future of that future. The book is set post-January 2019. In a few years that time shift won't register with readers as they discover this book. Reading it during the end of summer 2012 seemed a bit odd at first. The opening pages discuss how normal 2012 wound up being despite naysayers and prophecies that the world would end. The election of 2012 becomes important, not to have a political position in this horror comic, but instead to show how after 2013 the world will change in an instant and shape the alternate future. Sitting in a comic shop in 2020 this will read as alternate history. Reading this in fall 2012 makes it an alternate future story? The timeline sounds odd, but it works well to effectively communicate what the reader needs to know. Hutchison creates a secondary creation that hits the reader in two pages and tells the 90% of what they need to know.
Although this work doesn't tell you everything that you may want to know. Instead the last two pages leave you wanting more. Nice cliff hanger.
Quality art. Quality story. Quality all around on a comic that you may have missed at your local comic shop.
Ursa Minor #2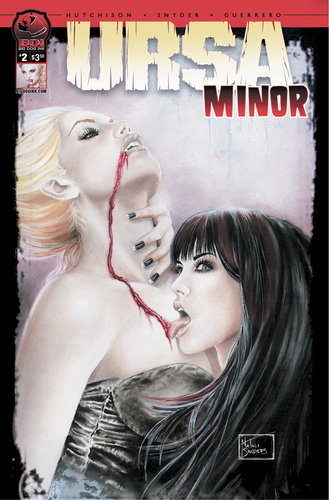 A series may be judged by its first issue, but it is only truly as good as its last issue. In this case, a nice cliffhanger on #1 resolves nicely into an action oriented story in #2 without sacrificing characterization.  Behind 1 of 3 covers, issue #2 picks up  where #1 leaves off. The good thing about joining a series already in progress is that you can catch up easily. This issue could be jumped into without reading the first, but you'd be missing a nice set up to find out why the vampires are cavalier, candid, but not concealed in this secondary creation.
The second issue keeps a consistent creative team and they are bringing together another quality issue.
The main character, Cub, has  a few of her secrets revealed in this issue, but not all of them. Hutchison is not rushing the origin story but instead stretching it out a bit. Despite the lack of consistent flashbck the story is focused on the future and moving ahead.
2 for 2 this is a great beginning for Ursa Minor. Both issues are great.
3 for 3 this is a great start for Big Dog Ink. I've read Rex, Zombie Killer and The Legend of Oz: Wicked West before and loved them both. Now Ursa Minor has made its way onto my reading list. That means I should probably pick up Penny for Your Soul, Critter, and the other titles coming from Big Dog Ink. So far, it seems safe to assume that they are quality.